March 9th in
Free Plug-ins
by
Wordpress Jedi
.
As someone who has been struggling to manage my blog's load, I can tell you that having a decent cache plugin on your blog is a must. Wp cache is one of the more popular cache plugins for your blog, but it's not the best there is out there. WP Super Cache is super fast, but it's not compatible with a few web hosts, so you want to do your research before installing that plugin. That's where W3 Total Cache comes in. It's a super fast cache plugin for WordPress that makes it easy to speed up your website without taking away from the experience of your readers.
W3 Total Cache is truly one of the rising stars among top WordPress plugins. It's been used on sites such as Mashable, Youst, and Noupe. You may not get as much traffic as those sites, but if you get any decent amount of traffic, you certainly want to test this plugin to see if it delivers on its promises.
Here is what the plugin promises:
Speed: up to 10x improvement as far as your site's speed is concerned. You can always measure that through Google Page Speed.
Performance: improvements in  the overall performance of your website, helping you keep your search engine rankings.
Load: easily enabling your website to handle traffic spikes more effectively.
Bandwidth: enables you to save on your bandwidth costs and keep your hosting costs low.
Compatibility: works with most web hosts unlike WP Super Cache.
So how does W3 Total Cache works? Simple. It lets you cache all aspects of your website, including your HTML, CSS, and JS files. The Minify feature by itself can bring the load on your site down significantly.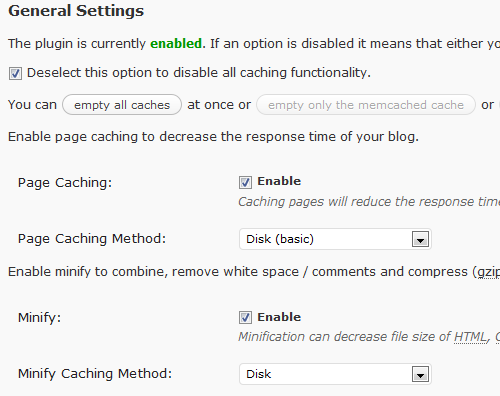 [click to continue…]
{ 0 comments }
Continue Reading