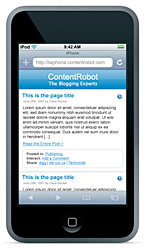 The iPhone is one of the best mobile phones on the market and is one its way to become the most dominant device in the mobile phone industry. iPhone is popular because it provides its owners with all the features they have been waiting for years to get on their smartphones. One of those features is the "real web" which helps folks browse through websites like they do on their personal computer. While most websites show up without too much trouble on the iPhone, your site may not be show up properly on the device. If you own a WordPress website, you don't want to ignore your mobile visitors. That is why you should use iPhone WordPress plug-ins to let your readers get the best out of your site on their iPhone.
Here are the top iPhone WordPress plugins that help you make your site fully compatible with the iPhone:
There you have it. Browsing a website that is not compatible with iPhone or other cell phones could be frustrating. Using the above iPhone WordPress plugins help you make your site optimized with all kinds of cell phones. Believe it or not a lot of folks use their mobile phones to consume content online, and you can't afford to not have a site that is optimized for mobile phones.