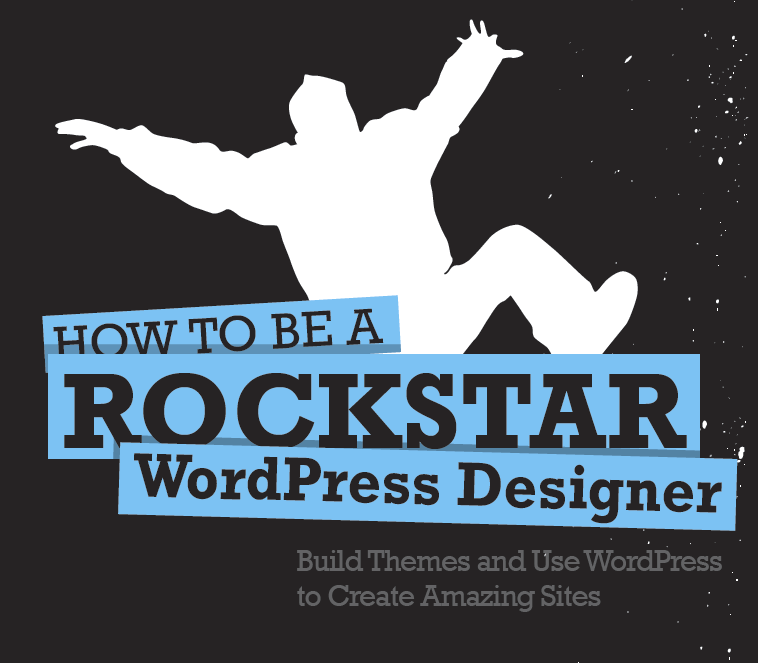 We at WPJedi are a bunch of WordPress junkies that live and breathe WordPress. Considering that WordPress is one of the best open source content management systems on the market, we have a good excuse for what we do. Mastering WordPress is not as easy as it sounds. The code is expanding and getting better each day. Besides, there are plenty of additional platforms you can take advantage of to create highly sophisticated solutions for WordPress. So you definitely have to pay your dues before calling yourself a WordPress guru. One way to do that is by making sure you know what it takes to develop solutions (e.g. themes for WordPress platform). That's where How To Be a WordPress Rockstar comes in handy. It's a powerful WordPress book that is written to help anyone interested in the art of designing WordPress themes get a fast start in this field. WordPress provides you with amazing opportunities to develop highly innovative solutions. As long as you are familiar with those advanced concepts, there is no reason you can't go on to develop highly innovative solutions for WordPress.
How To Be a WordPress Rockstar is not your average WordPress book. There are plenty of them around that show you how to install WordPress and add some plugins to it. Haven't we seen enough of those books? If you are anything like me, you want a book that digs deeper and shows you how to do cool things with WordPress. This books takes a good shot at that. While it starts with the basics, it runs you through what you need to know to develop powerful themes for WordPress. It even covers a few theme ideas to get you started in your journey in the theme development world.
The book starts with the very basics of WordPress. But before you know it, you are learning about the loop, dealing with your sidebar, and changing your footer. You also learn how to build a basic plugin and how to deal with advanced fields. You are also provided with a ton of examples to help you get it.
Here is a summary of what's covered in this book:
Blog Design: the basics of things you need to remember before developing your own theme. You certainly want your website to be usable and intuitive to your visitors. Why go through the trouble of designing a theme that your visitors are going to hate?
Theme Design: this book covers the very basics of designing a theme from ground up. Those small questions that you have always wanted an answer to are addressed in the book as well. Of course, the book addresses more advanced topics and walks you through example code to make things easier on you.
Advanced Theming: you are going to learn how to work with custom fields and develop solutions that are intuitive and make it easier for your readers to use your themes. You are walked through the process of writing a theme from scratch, which should give you plenty of information on how to develop your very own themes.
WordPress Ideas: this was by far my favorite part of the book. Knowing how to develop themes for WordPress is only one part of equation. It's always nice to have a few ideas on how others have re-purposed WordPress and developed brand new solutions with it. Plenty of ideas are discussed in this book.
All in all, if you are looking for a simple to follow book that teaches you what other WordPress books don't, How To Be a WordPress Rockstar is a must read. It's definitely not another one of those WordPress for newbies books.