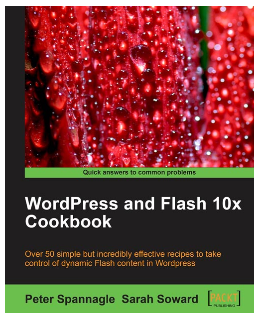 WordPress is a wonderful open source CMS that can handle almost any type of website one can come up with. It may be a powerful platform but not all WordPress users invest time and effort to get the most out of it. This platform can be used to develop highly dynamic websites. One of the most popular ways to do that is by adding Flash content to your website. That's what WordPress and Flash 10x Cookbook aims to help you master. WordPress and Flash 10x Cookbook, which Packt Publishing was kind enough to provide us a copy with, discusses what every WordPress webmaster needs to know to get the most out of Flash on WordPress. Without further ado, let's dig in and see what's covered in this book (for more information on this book and other exciting Packt Publishing books, visit packtpub.com).
Let's face it. WordPress is a tool,  given it's a very powerful tool. One can use WordPress to develop an incredibly dull website.There are technologies that WordPress webmasters can take advantage of to add dynamic content to their websites. Flash is one of those technologies. Flash may look difficult on the surface, and it does take a lot of effort to master. But there are plenty of plugins, scripts, and other solutions available for WordPress. WordPress and Flash 10x Cookbook covers some of those solutions and teaches you how to leverage Flash to make your website more dynamic and take it to the next level.
As the name suggests, WordPress and Flash 10x Cookbook is written for WordPress site owners who are looking for practical tips on how to integrate Adobe Flash into their websites. You don't have to be a Flash or WordPress expert to get started with this book. The authors do not throw you into deep waters right from the start. Building step by step is key for anyone who may not be too experienced in this area, and that's exactly what you get here. Before you do anything on your website, you need to have a plan. You also need to know the basics about the platform you intend to implement Flash on. This book runs you through the basics of WordPress in the first couple of chapters (mostly second). You'll learn how to modify files, add scripts, and work with plugins on WordPress. These concepts will come handy in later chapters (especially if you are a WordPress beginner). The book also covers:
SEO Plugins for WordPress
Google XML Sitemaps Plugin
Breadcrumbs
Website backup
The more advanced chapters delve deeper on ways you can add Flash content to your blog. What do I mean by Flash content? Animations, slide-shows, image galleries, and flash videos just to name a few. This book shows you how to handle your photos and content and present them in a more dynamic fashion on your blog. It also teaches you how to deal with audio and some flash applications (for instance, quote rotator). What makes this book so fun to read is that the instructions are very clear and easy to follow. You won't have to spend hours on Google to figure out how to get things covered in the book to work (unlike some other books).
Chapter 6 is by far my favorite. It covers Flash applications that webmasters can install to improve their visitors' experience on their websites. Whether you are looking to integrate Google maps to your blog or just want to rotate multiple ads in your sidebar, this chapter covers it.
The WordPress and Flash 10x Cookbook's approach is very pragmatic. We are all tired of all those theory books that don't teach anything practical. This book walks you through each task step by step. By the time you are done with it, you should be ready to tackle more complicated WordPress projects.
In summary, here are just a few cool things that you'll learn to do after finishing up this book:
multiple ways to add Flash detection to a WordPress site
add watermarks using Flash
add an image gallery to a blog
ways to get started with your video blog
add sound-effects to various elements
create your own mp3 player
ways to "Flashify" your WordPress site
rotate various ads on your site
take advantage of sIFR
develop basic Flash animations
implement Google Maps on your blog

What's more, you do not have to be an expert in Flash or WordPress to get started with this book (you might aim for it after finishing it up). To sum things up, if you are ready to take your WordPress website to the next level by leveraging Flash, but do not know where to start, WordPress and Flash 10x Cookbook is a powerful book that gets you on your way. It's very easy to follow and practical and can give you a very nice head-start.