In this day and age, many job hunters rely on online job sites to find new opportunities. Not satisfied with the job sites available? You can always start your own with themes like Jobplanet. This premium theme supports front-end job submissions and Visual Composer. It has a clean, professional design.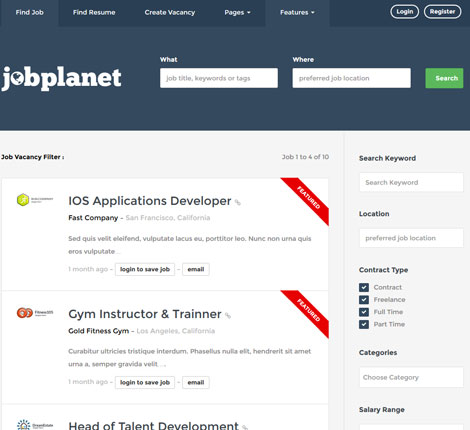 Jobplanet does not require a separate plugin to work. It is responsive and ready for Retina displays. It comes with a dynamic job search system with AJAX. Jobplanet also supports WooCommerce and has HTML e-mail templates. Job applicants get a message when their status changes.
Job candidates will be able to apply for openings using their resume or LinkedIn info. They get updates on job vacancies. In fact, the theme is social media friendly. This is a commercial theme by an Elite Author.