WordPress already comes with everything you need to bring your site online. Those of who know your PHP, CSS, and JavaScript can easily add more features to your website with your own code snippets. Thank to these WordPress plugins, you will have an easier time managing your own code snippets:
Woody Code Snippets: a handy plugin for adding code into your header and footer. You can also use it to register and run PHP functions and code. The premium version comes with cloud storage and syncs them with your sites.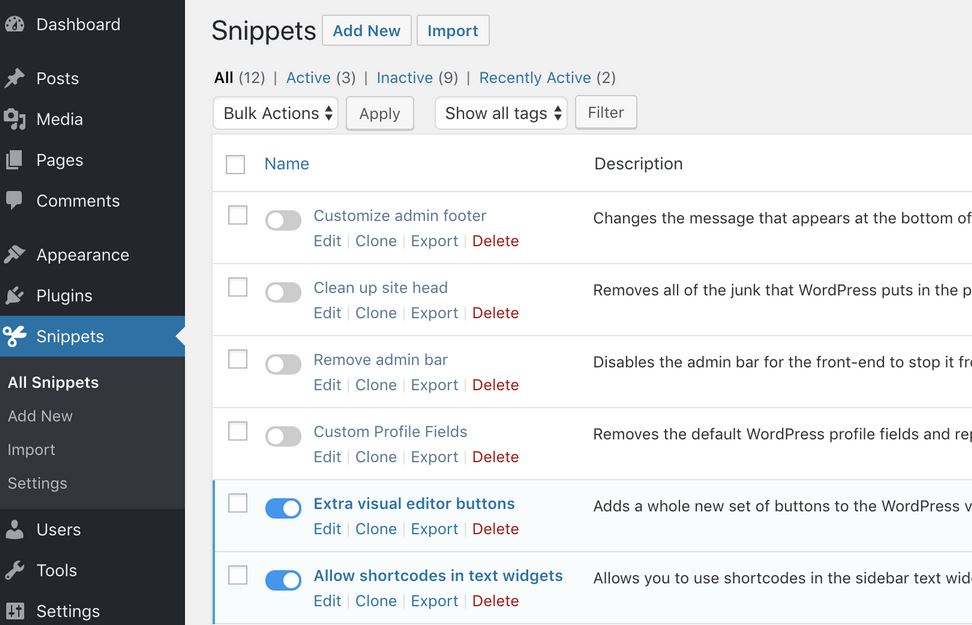 Code Snippets: a PHP code snippet WordPress plugin that provides you with a graphical interface for managing snippets. You can also export snippets easily.
Head, Footer and Post Injections: a handy plugin for inserting code snippets into your site's header and footer. You can also add them inside your posts. This plugin can execute conditional PHP code.
Insert PHP Code Snippet: this plugin lets you create shortcodes with PHP code snippets. You can use these snippets in your widgets.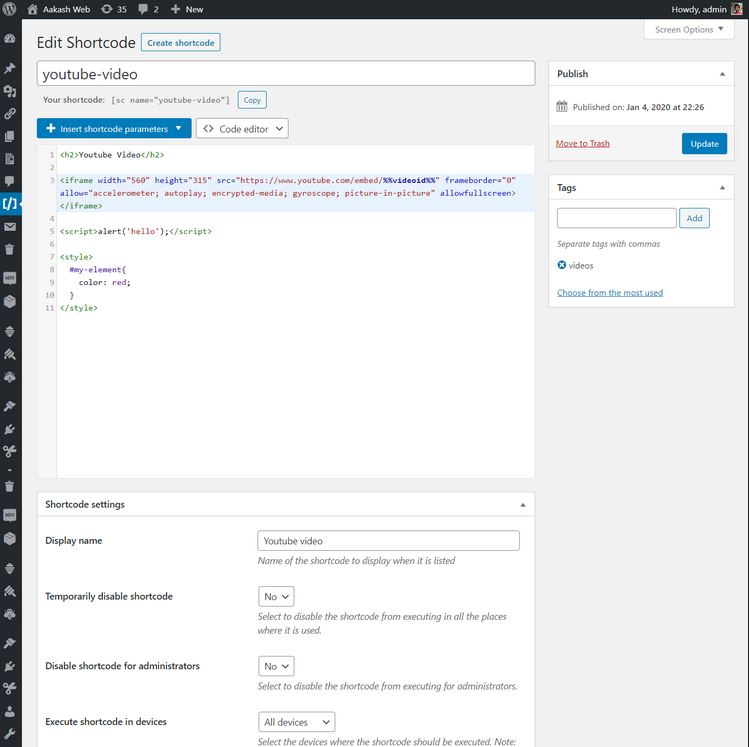 Shortcoder: this plugin lets you create shortcodes for anything, including HTML and JavaScript snippets. Lets you disable shortcodes on desktop or mobile devices.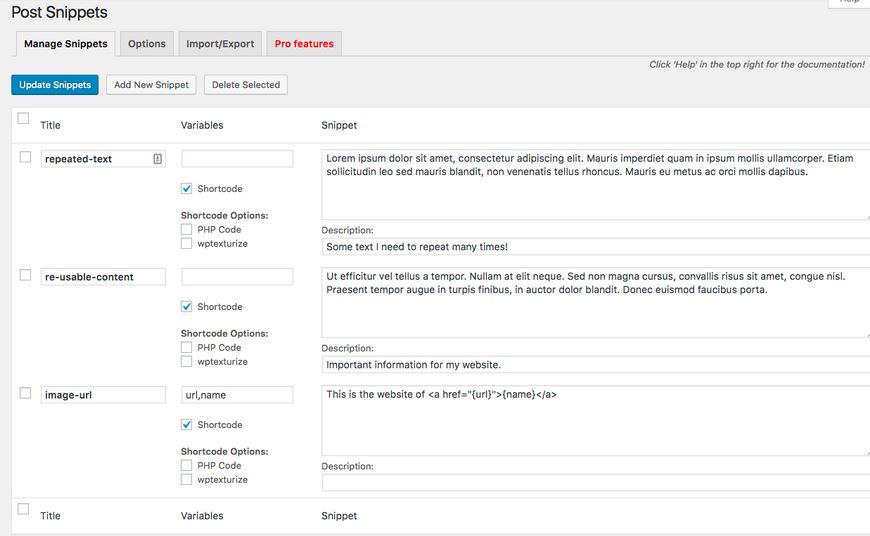 Post Snippets: a code snippet management plugin for WordPress that lets you manage and run HTML and PHP code. Lets you have as many optional variables as you want for your shortcodes.
CSS & JavaScript Toolbox: another plugin that lets you add CSS, JavaScript, HTML, PHP, and other content to your site. The premium version lets you add code via shortcodes, widgets, and Gutenberg blocks.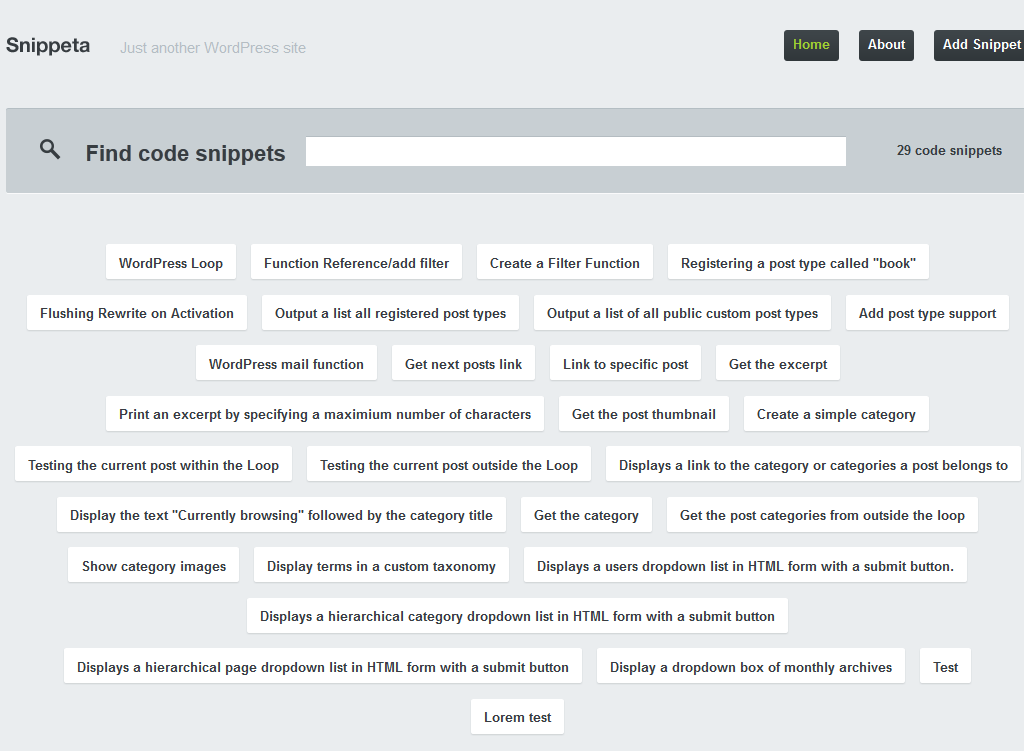 Snippeta: this app lets you collect and organize pieces of code that you use often. Your visitors can share links to your code snippets too.
Header Footer Code Manager: another plugin for managing scripts and styles on your website. You can choose where and on which devices your scripts load.
Your Shortcode: a visual builder for creating and managing your own WordPress shortcodes. Lets you maintain an unlimited number of shortcodes.
Raw HTML Snippets: this plugin lets you create a library of raw HTML snippets to insert into pages and posts.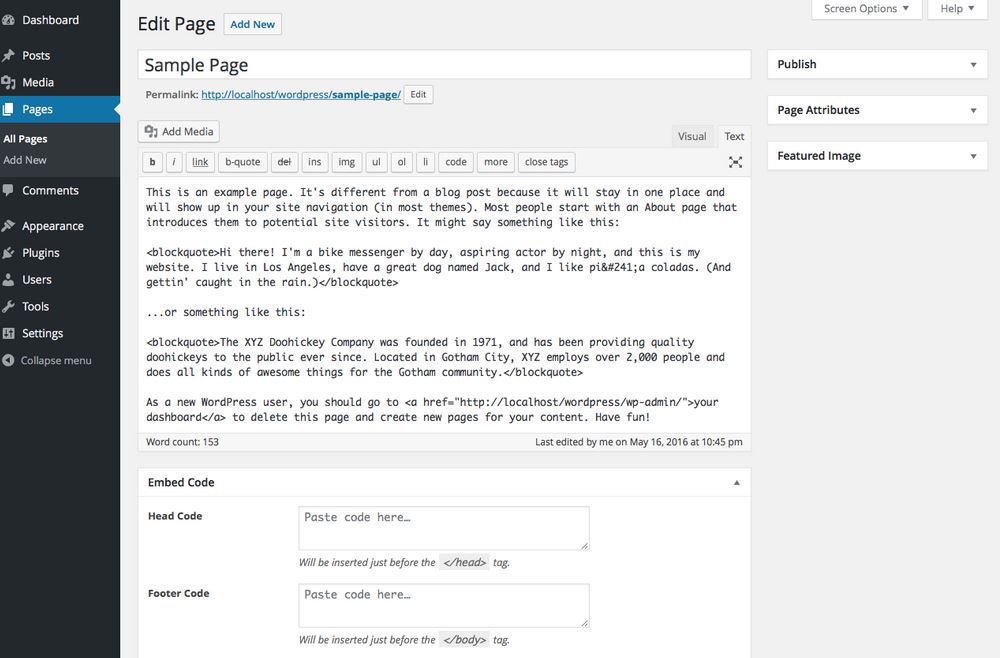 Embed Code: a free plugin that lets you add Google Analytics, fonts, custom CSS, JavaScript, and other code snippets to the header and footer of your site.
Tracking Code Manager: a WordPress plugin for managing all your scripts and tracking in one page. Lets you easily choose the position of each code and exclude it on certain pages.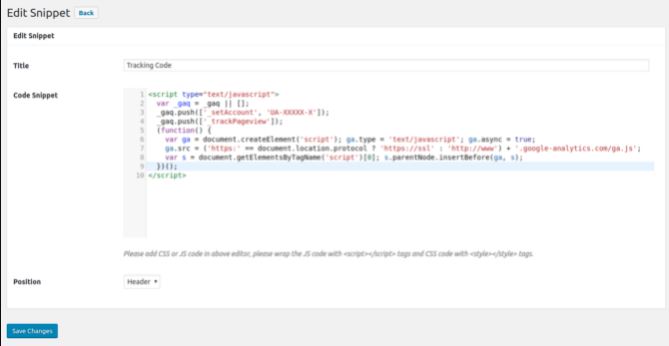 Easy Code Snippets: lets you create JavaScript and CSS code snippets and use them in your pages. It lets you choose where to display the code.
Snippet Shortcodes: another WordPress plugin for creating your own shortcodes with parameters. This plugin can handle HTML, JavaScript, and other elements.
Have you found better code snippet managers for WordPress? Please share them here.