In the first part of this series, I talked about how you can use third-party services such as Twitter Feed to connect your WordPress blog to your Twitter account. Another way to connect your WordPress blog to Twitter is by bringing the Twitter community to your WordPress blog.
This process is not really that hard. All you have to do is log on to Twitter, and click on the tools link right on the footer.

Once there, you want to grab a widget from the options available.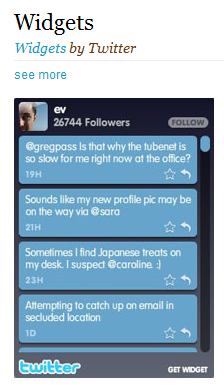 Once there, you get a few options to choose from. Obviously, there is none for WordPress, but that doesn't mean you can't use the code available on your WordPress blog. I personally use myspace widget on my blog. It is flash, and I know the SEO purists hate flash, but I find it more attractive on my blogs. You can also use the blogger option and grab the code for your site.
The blogger code makes it easy to optimize the look and feel of your Twitter snippet with CSS. A lot of folks have used it to create unique looking Twitter sidebar widgets, but I personally like the flash version better.
At the end of the day, you want to make sure you take advantage of Twitter to not only drive more traffic to your site but also create a tighter community around your blog. And let's not forget that the more connected you are on Twitter, the better off you are.