If you run you own WordPress blog, you know the effort that it takes to engage users and keep them coming back for more. You can have the best blog in the world, but if people are not being engaged, you can't sustain your traffic, and your community will not be as strong as it should be.
One way to engage users is by creating magnetic polls. By that I mean polls that are more than about "what you had for lunch today." Something about your industry, issues and challenges in it, and possible controversies. WordPress makes it easy to create polls on your blog. You can use WP Polls to create polls and track them on your site. You can customize the design as you wish, and you can set deadlines or schedule your polls months in advance. But is hosting your polls the best way to go?
After testing both internal and external polls, I have come to conclusion that external polls give you more strategic options to drive traffic to your site and engage your users. Sites such as Poll Daddy and LinkedIn allow you to create your own polls and share them with other easily. And they are compatible with WordPress too!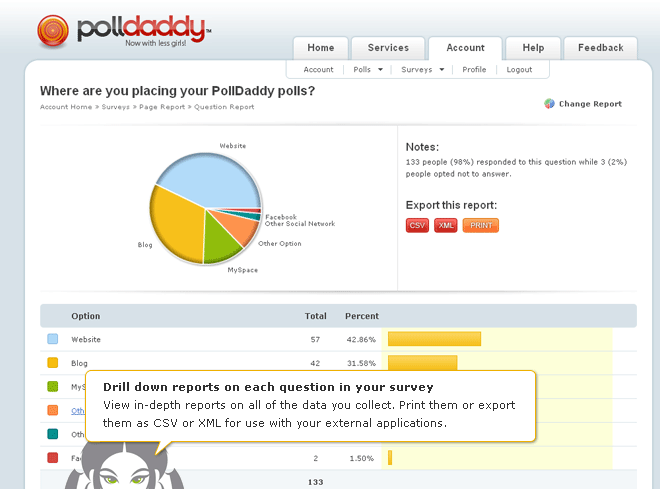 Poll Daddy is a very interesting solution as it provides you with features that go beyond anything you can get from WP Polls. The pro package allows you to drill down and dig deep with your data. You can also customize your polls easily with Poll Daddy. LinkedIn polls provide you with the opportunity to engage other LinkedIn community members and gain some exposure for your own profile in the process. You can expand your network and find like-minded folks with your LinkedIn polls.
Polls are great for attracting and keeping your readers. For simple polls, you can always use WP Poll. It does simple polls very well, and it is functional, but in order to gather proper data to analyze your poll data more effectively, you should always go with external solutions.