I don't know what it is about creating attractive polls that gets to me. I love WP Poll, and it's a great plug-in to host your own polls on your blog, but there is no question that there are limitations. If you really want to create a kick ass poll, you should try PollDaddy.
PollDaddy is a web 2.0 poll online application that allows you to create polls on the fly. It not only allows you to create attractive polls, but it also comes with features that you wouldn't get from a mere plug-in:
Foreign language support: now English language won't a barrier for your polls.
CSS Enhancements: you can practically do anything your heart desires with the polls on PollDaddy. You can change the CSS or even add HTML code to your polls.
Image/Video capability: showing your visitors videos and asking them for their opinion is a powerful concept. You can't do that easily with WP Poll but it goes like a sneeze with PollDaddy.
Conditional Branching: this is the most powerful feature. You have probably seen flowcharts in the past. You can create branches for your poll based on the answers that you get.
Analytics: I am a number cruncher, and anything that allows me to dig deep into numbers is attractive to me. This feature is for paid members only, but it's very powerful as it allows you to look at individual prospects and see how they interacted with your polls.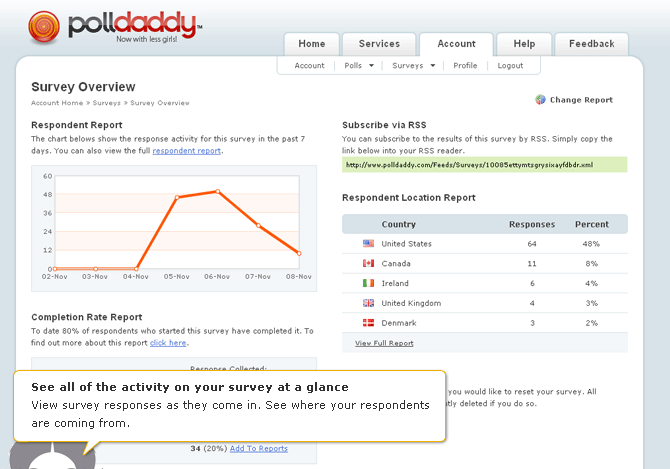 There you have it. PollDaddy, which is in beta, is no joke. It's more powerful than anything you get on WordPress or even Facebook. And best of all, it's for free. Can't beat that.