I happen to own a website that has over 10,000 pages and posts combined. That's not much in comparison to some of the bigger portals out there. But at the same time, the sheer size of the site makes it too difficult to make the smallest changes to the structure of the site. When I purchased the website from the previous owner, I had every intention of changing the internal structure of the site to maximize the link juice flow and improve my site's PR. One big problem with the site was the permalink structure that was used on the site. The URLs were just too long and not search engine friendly. If you change your permalinks structure without doing the ground work beforehand, you leave yourself open to search engine penalties and loss in traffic. Don't forget that people who have bookmarked your pages won't be able to find your pages once you make the switch. So how do you approach such a problem?
Currently trending WordPress plugins
One easy way to do it is by writing a script that 301 redirect every one of your old link to their new location. That way you don't lose your traffic and won't get penalized by Google and other search engines. Of course, if you don't know any coding, you can always use Permalinks Migration (even if you do, this could save you a lot of time). Permalinks Migration lets you 301 redirect your old links to your new links without doing too much work. All you have to do is define your old permalink structure: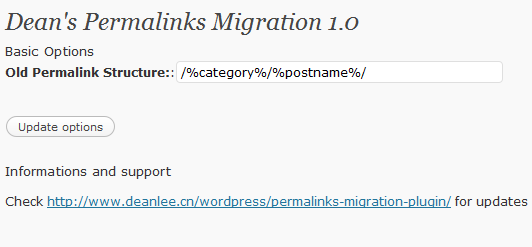 Here is how the developers explain the concept behind this plugin:
There is a way to tell the search engines (and browsers) that the page has permanently moved, and that the old address should be replaced by the new one . It's called a "301 Redirect", also known as a Permanent Redirect.When you do this, Search engines will update their indexes quickly and you won't lose your pagerank.you will continue to receive traffic as though nothing had changed. This works for search engines, bookmarks, and links from other sites…. This plugin will generates a "301 Redirect" when user or spider visit your site through old permalinks,and redirect them to the new permalinks of the same post.
All in all, if you have a huge portal and want to change your permalinks structure, fear no more. With Permalinks Migration, you can easily 301 redirect your old links to their new location and won't have to write a single line of code. How cool is that?