Running a website focused on the stock market can be a lucrative venture as long as you have a strategy and great content to attract investors. You need to make sure to provide your visitors with all the information and tools they need to make better decisions. Even you have a small blog about stock trading, adding a stock ticker to your site is not a bad idea. These three plugins let you add stock tickers to your website:
Currently trending WordPress plugins

Stock Ticker: an easily configurable plugin that lets you display stock price information on your site. The plugin caches data from Google Finance for a certain period of time and offers a tooltip for each ticker item.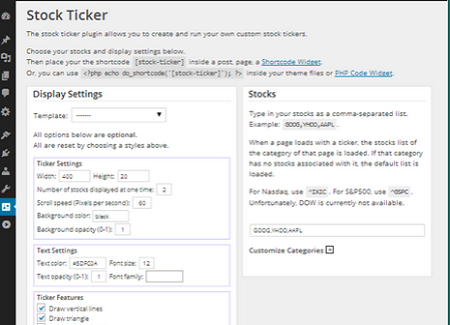 Custom Stock Ticker: lets you add customizable moving stock tickers on your site using shortcodes. It has 4 skins and customizable width, height, font, and other settings.
WP Stock Ticker: a premium plugin that lets you display market quotes as a scrolling ticker on your site. You can adjust caching time, speed of the ticker, and other settings.
What are your favorite plugins for trading sites? Please share them here.