Wordpress SEO
Submit Your Blog To Directories with Directory Maximizer

Optimizing a WordPress blog for the search engines is more than just tweaking your title and description tags and hoping for the best. While paying attention to on-page SEO tactics can help you climb the search engine rankings, getting incoming links to your blog is the best way to make sure you drive enough traffic to your blog to get the exposure and credit you deserve in the blogging world. One of the best ways to get juicy links to your blog is by getting links from online directories. While directories are not as effective as they used to be, they can still help you take your business to the next level.
If you have submitted your blog to directories by hand before, you know how much effort it takes to submit to multiple directories manually. You have to create accounts per each directory, fill out forms, manage emails from these directories, and more when submitting your sites to directories. But thanks to Directory Maximizer, you can submit your website to over thousand of directories without you having to do much.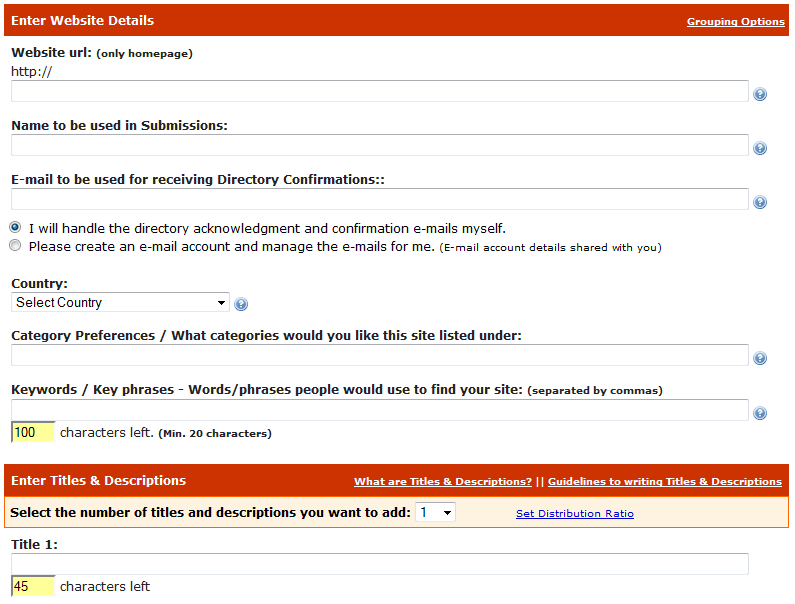 Directory Maximizer allows you to submit your blog to thousands of directories without you having to open new accounts by hand. You can also define the titles that you want your listings to use. You have the option to define multiple titles for your listings. So you can essentially define what anchor texts you want directories to use to list your blog. These directories comes with different PageRanks, and you can define which ones you want your site to show up.

You can choose to submit your site to over 1000s of directories all in one shot. You can also define your budget and have the system offer you a plan accordingly. Of course, you can combine all these options to come up with the best solution for your blog , and you are in control of the speed of your submissions as well. Each submission will cost you $0.14, which is not much.
Ultimately, you can either submit your blog to these directories by hand or let services such as Directory Maximizer to get the job done. Directories are not the only way you can get incoming links to your blog, but they do help you gain more traffic and improve your search engine positions. And with Directory Maximizer you won't have to spend time on it all, so you can focus on more important chores.