Wordpress Plugins
SUMO WooCommerce Waitlist Plugin Lets Customers Track Out of Stock Products
As your business grows, you could end up with demand outstripping supply for certain products in your store. You wouldn't want to lose any leads though. The SUMO WooCommerce Waitlist plugin can help. It works with simple and variable products and lets your users subscribe to a waitlist for out of stock products.
This plugin works for both members and guests. When an in-demand product is back in stock, your customers will receive an email notification to complete their purchase. Admins will be able to view conversion details in the back-end. Waitlist subscribers can be exported as CSV. The plugin lets you know when the number of subscribers exceeds a certain number.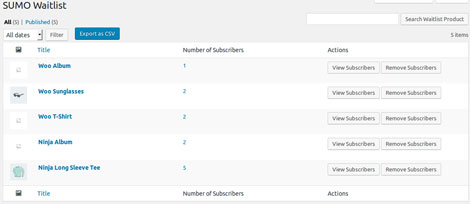 The SUMO Waitlist plugin should work with most themes. It is ready to be translated.