June 10th in
Premium Themes
,
Themes for Businesses
by
Wordpress Jedi
.
So you have developed your first iPhone application and want to promote it online to maximize your sales and climb the iTunes sales rankings? Maybe you are an experienced developer and want to give you existing iPhone app portals a maker. Whatever the case, AppTheme for WordPress has you covered. It's a very attractive WordPress theme that lets you start a portal for your iPhone application and start promoting your app in a more effective fashion.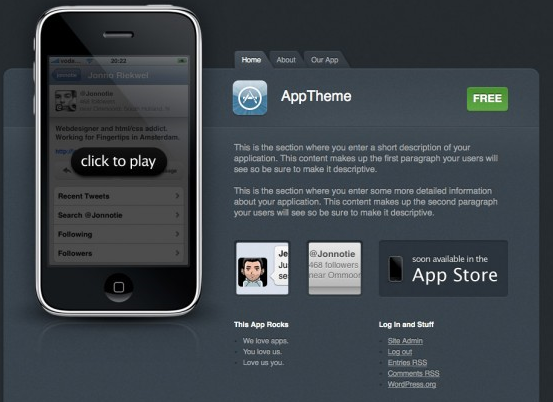 AppTheme can be a life saver for iPhone developers who may not have the time to develop a portal for each app they write. Besides, it does not require developers to spend a whole lot to get their sites up and running. The theme is very easy to customize. You can easily upload your screen-shots and video files to your theme and let your visitors get a better sense what your iPhone app is all about.
{ 0 comments }
Continue Reading