Premium Themes
iPhone App Theme: Build an iPhone Application Site with WordPress
iPhone development is one of the most exciting fields to be involved today. It's true that the market has become quite saturated these days as thousands of developers are in the process are developing their own apps for iPhone. At the same time, if you know iPhone programming and know it well, there is no reason you can't build a killer iPhone app and make some decent money in the process. Developing an iPhone app is not going to be easy, which is why you want to make sure you spend most of your time testing and improving your app rather than having to worry about putting a website up for your iPhone app. That's where iPhone App Theme comes in. It's a very exiting theme that lets you build a website for your iPhone app to promote it more effectively and make more money in the process.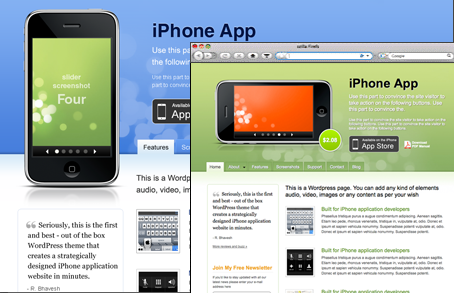 iPhone App Theme is built with iPhone app developer in mind. You are going to be busy with developing your app, so the last thing you want to do is deal with coding and spending too much time customizing your website. With iPhone App Theme, you can customize every aspect of your website in a flash. You can customize the price, testimonials, and your app descriptions. You can also add and remove elements to your home page from the back-end. What I like about this theme is the fact that it's Ajaxified to keep your users on your homepage and allow them to go through other content available on your website fast. You can also customize what's shown in the iPhone screen on your home page. You can choose  to show a video or multiple slides. You can also change the orientation of the iPhone image on you page, making it horizontal or vertical.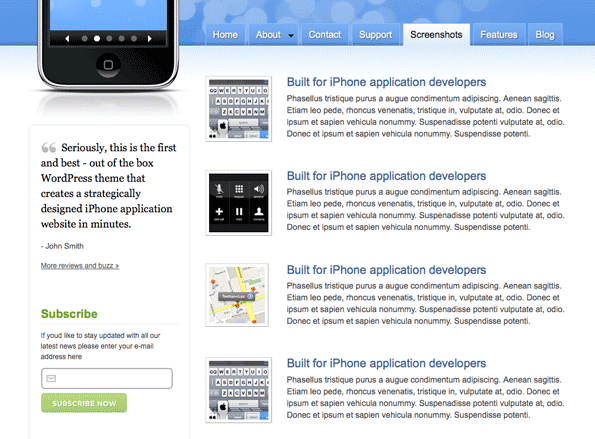 In order to promote your iPhone app more effectively, you are going to need testimonials from your existing customers. Thanks to rotating testimonial feature available in this theme, you can display multiple testimonials on your iPhone app website. The theme comes with a cool contact form as well, so others can easily contact you for press or other inquiries.
The fun part is, you can use this theme for any kind of app business. So if you are writing apps for Android, you can make the appropriate changes to build your Android app site with this theme as well. There is really no easier way to build a website to promote your iPhone application.