Thesis WordPress theme is one of the most popular themes in the WordPress community. It is known for being super SEO friendly, and a lot of super-bloggers use it as a starting point for their blogs (see an example here). Thesis is an extremely clean, simple, and yet powerful theme for all bloggers and those interested in starting their very first blog.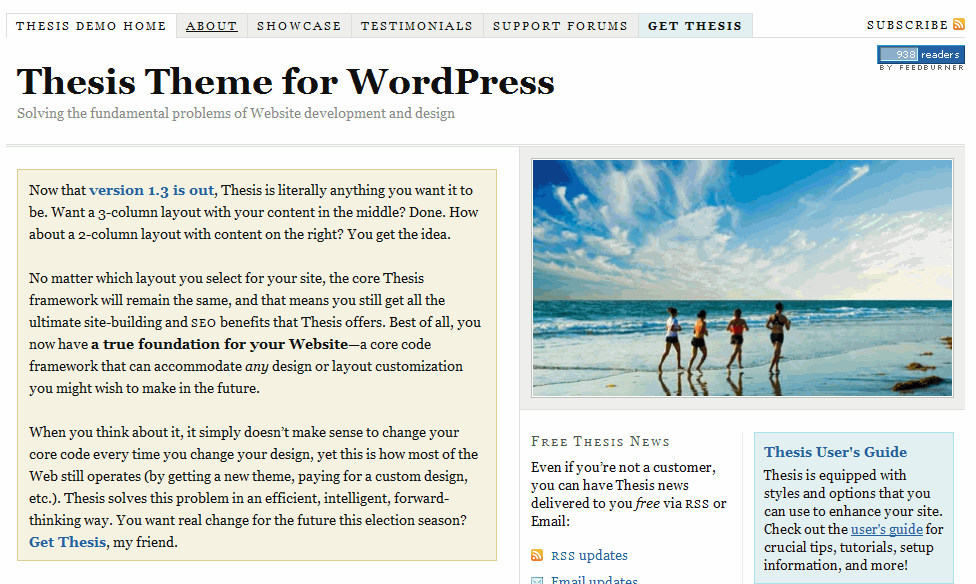 Thesis is a three column premium theme (content + 2 – column sidebar). You can modify the theme easily to have the column show on the right or left side of the content. The theme is coded in PHP + HTML + CSS, but the developers have kept SEO as their high priority. What I like about this theme is the contrast of colors in the design. Have you ever been to a blog that you really like but hurts your eyes badly every time you try to read it? That's not what you get with Thesis.
Thesis theme has a lot of real estate for ads, if you are interested in monetizing you blog. You can also customize the headers as you wish, which means you don't have to create a blog with this theme. You can even use Thesis for your corporate site.

In summary, here is why many super bloggers are using Thesis:
Design: Thesis is simple and intuitive. Things are where they are supposed to be.
Flexibility: there are lots of ways to customize your Thesis-based WordPress blogs.
SEO: the folks behind this theme have taken time to optimize the code for search engines. Who doesn't like free traffic?
Accessibility & Usability: Thesis designers have paid extra attention to web usability and accessibility. It doesn't take a genius to navigate through Thesis blogs.
Layout: Thesis' layout is highly customizable. You don't have to be a coding genius to change things around.
Cross-browser Compatibility: your Thesis blog is going to show up right on top browsers such as IE, Firefox, and Chrome.
Lifetime Updates: Thesis comes with lifetime updates. That means you won't have to spend a time to get your hands on updates done to this theme.
Support: if you are stuck, you can always count on the folks behind Thesis to help you out.
Affordable: for a such a sophisticated theme, Thesis is actually under-priced. $87 is not a lot for such a well-designed premium theme.
You can get your hands on Thesis for $87 but you will have to leave the footer intact and use it on only one site. You can get a professional license  for $164, but you get to use it on multiple sites, and you can remove the footer. If you are looking for a killer WordPress theme, you won't go wrong with Thesis.
You may also want to see: