Have you ever gotten in trouble with Google? As someone with a suspended AdWords account, I can tell you that getting your account back when it is suspended is not always easy. Many webmasters can live without an AdWords account. But AdSense does bring a lot of money to online publishers. The last thing you want to deal with is a suspended AdSense account. Keep in mind that you don't necessarily have to be at fault directly to get suspended (there are black hat techniques that some unethical webmasters use to attack their competitors).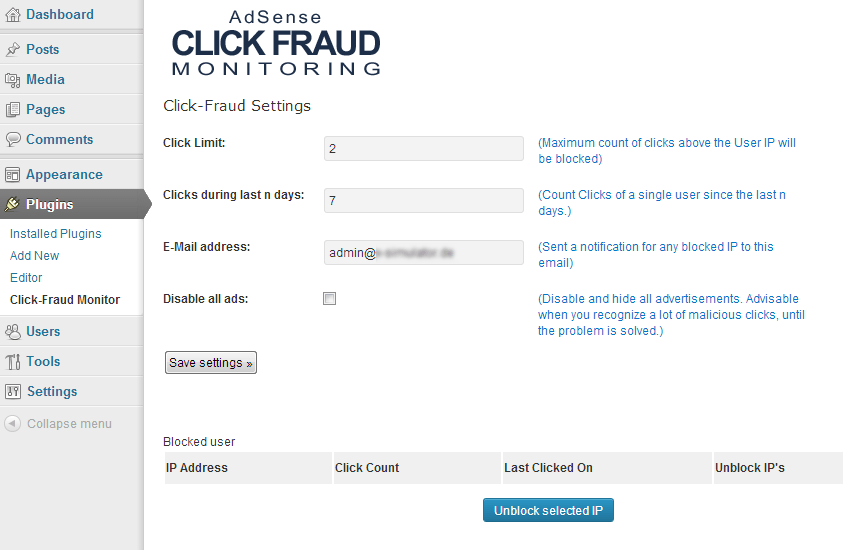 AdSense Click-Fraud Monitoring for WordPress is an interesting plugin that helps you avoid getting in trouble with Google. It prevents malicious clicks by bots on your ads. You can also filter out your own clicks. Here is how the plugin works: it disables your ads when someone is clicking too often. The premium version of this plugin sends you notifications when users are blocked. You don't need to use a special theme to use this plugin.

Getting your AdSense account blocked can be quite painful. It should go without saying that if your business model is too reliant on AdSense, you need to rethink it. Changing your business model can take some time though. Plugins like this can help you combat click fraud and keep your AdSense account protected until you are ready to take your business to the next level. The pro version of this plugin sets you back $12.