I have talked a lot about niche themes on WP Jedi. But one thing that I have probably not talked about is the mother of all niches – blogging. You have probably seen it by now. There are many folks around us who make decent living from teaching other how to blog or make money with blogging. I personally have no trouble with that as long as these guys actually make money from blogging before they started getting yours and my money.
But the truth is, many folks get into the blogging niche without actually making the millions first, and I don't have a problem with that either. Pro blogging is a very hot niche these days, especially with the economy breaking down. Who wouldn't want to be able to make a decent amount of money without the hassles of dressing up and going to work everyday?
Bob v3 is one theme that is just made for pro bloggers. As the name indicates, there are three version of this theme. The theme has evolved through the past couple of upgrades, and is now one SEO power house for pro bloggers. Bob v3 comes with the one feature that every pro blogger needs – "my favorite posts." You get to promote posts that are the most popular on your blog. I also like the fact that you have an "about me" section to promote and sell your background.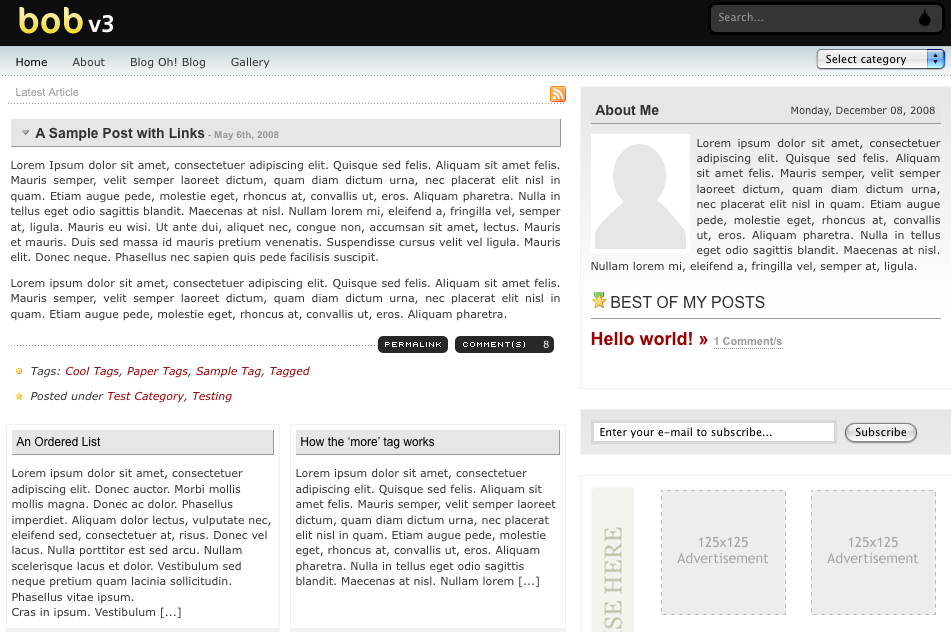 The tabbed content is very useful. The content Ajaxified slider is "cool," and you can use the tab feature to save real estate and show your readers more things. One thing I would change about this theme is the advertisement section. I believe it's too low on the page, and I have not had success with my ads on that spot. It may work for you, but I am personally biased there.
Overall, Bob v3 is a very contemporary looking pro blogging theme. It's very easy to navigate, and it's easy on eyes. With a bit of modification, you can have your very own super blogging theme. One thing I would say is Bob v3 is a theme for serious bloggers. It is not a cheap theme as it comes with many premium features, so if you are not planning to have a serious blog, you should probably look at free theme. Good luck.