Pro blogging WordPress themes are very dear to my heart. There are so many of them out there. But if you look at most of them, they are light themes. By that I mean you can expect to see a white background with most pro blogging theme. I personally like these themes as they are easier to read. Besides, I find dark themes depressing. But Revolution Elements is one dark theme that I can't stop looking at.
You may also want to see: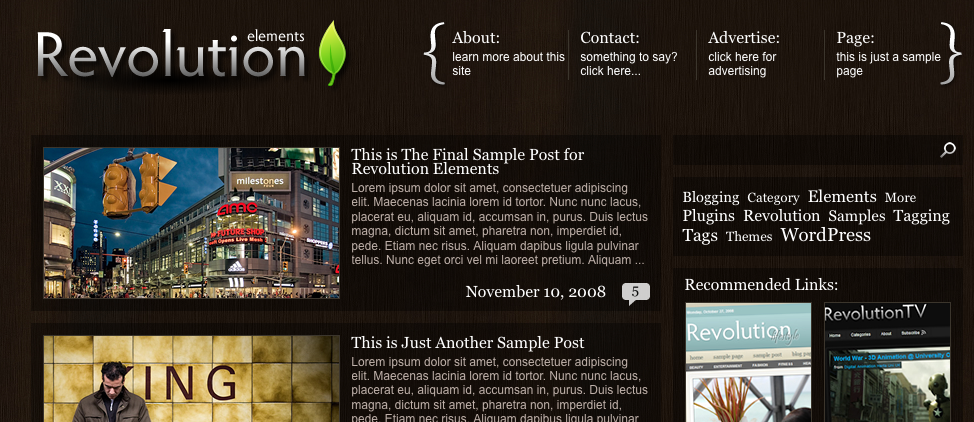 I am not very design savvy. In fact, I can't even tell the difference between most colors (a bit color-blind you could say), but Revolution theme is the only theme that I can actually read its content (with its dark background). Most dark themes don't get this concept right. Folks NEED to be able to read the stuff for a theme to be a success.
With Elements, not only you get a very readable theme, but it is very easy to navigate as well. You get 4 125*125 banner spots that you can use to monetize your blog. You also get a footer advertisement spot which allows you to put small little ads on your footer.

Elements is a very SEO friendly theme that can be used to create very attractive blogs. One thing that I would like to see with this theme is the actual PSD files. I love theme sellers who provide you with EVERY file that you need to be able to customize your WordPress themes. Having said that, Revolution 2 allows you to sign up for their support service and get their help with your customization process. Either way, I would give this theme an A-, which is more than I have ever given to a dark theme. Don't take my word for it though. Check it out for yourself.