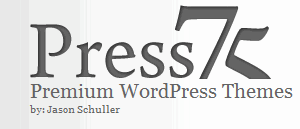 Press75 is one of the most innovative WordPress Theme sites on the Web. Jason has moved to join forces with Revolution2, which means he will not be selling his awesome Press75 themes starting Monday, November 17th. These themes are great for videobloggers, so if you are interested in getting them, you have only a couple of days left to get these themes.
Jason is one of the super guys in the WordPress world. He is so creative, and his themes are just a testament to his dedication to bring unique high quality themes to the WordPress community. Here are the themes that won't be sold after Sunday, Nov 16th:
Thee themes are definitely worth checking out if you are into video-blogging. There will be new themes on Revolution 2, but the above themes will not be sold ever again (according to Jason). But you still get support for them in the future, so it's a win-win situation to me.