Videoblogging is one of those trends that is catching fire these days. Videoblogging is becoming more and more popular as people spend more time consuming video online. Besides, there are things that you can only communicate through video and audio. Press75 has been known for having some of the best video blogging themes available on the market (I personally use TV.Elements for my blog. The good news is that Press75 has just released their best video WordPress theme in "On Demand." So let's dig in and see what makes On Demand WordPress theme special.
Currently trending WordPress plugins
Design: I am sure you have heard of love on the first sight? Well, On Demand is absolutely incredible looking. You get a featured video section with the ability to flip videos by clicking on the left or right arrows. In addition, you get a category section, where your users can search for their favorite video posts based on your defined categories. The "sideblog" on the sidebar allows you to point to your non-video posts, which I think is great. The dark/light contrast of color on this theme makes it an incredible videoblogging theme. Let's say you want to run a movie trailer blog. You can do so easily with On Demand (check out the sample site here).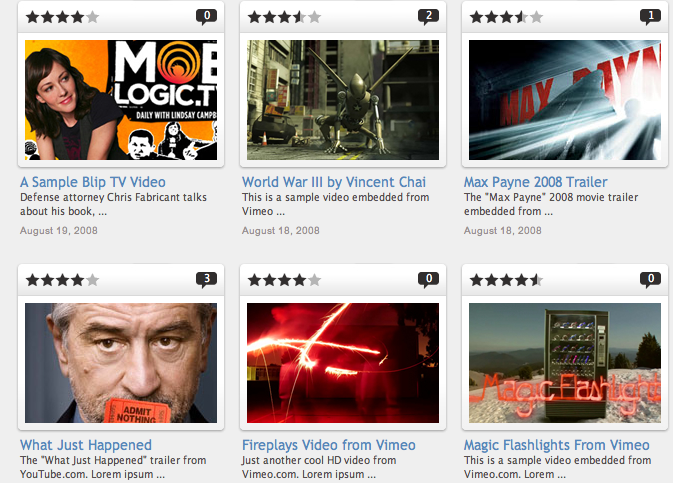 Functionality: like other video themes by Press75, On Demand comes with a host of features for video bloggers. You can import posts from high definition video services such as Blip.tv or Vimeo. In addition, your users can rate videos and your highest rated videos show up in your right sidebar (see picture below). Of course, this theme is widget ready and compatible with the latest WordPress release.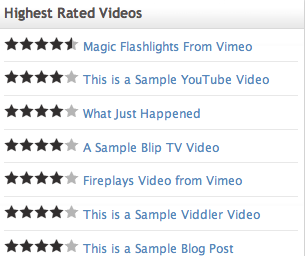 Cons: This theme is great looking and comes with a lot of features, but no alternative CSS is provided unlike some other premium WordPress theme. In other words, you will need to either change the CSS yourself or hire someone to do it for you if you want a drastically different look. In addition, we would have liked to see the videos zoom out and play on the same page rather than opening up on the new page. That can however be fixed with minimal coding.
Pricing: On Demand comes with three different types of licenses. I do recommend you signing up for the developer license if you plan to change and reuse the theme for your clients:
Verdict: 4.75 out of 5. The theme is great looking and a must have for new video-bloggers. There are a few small areas that can be improved but nothing that should stop you from getting this theme. Considering that lifetime updates are included, we wouldn't be surprised to see this theme get improved further in the near future.