Deleting one or two WordPress pages or posts is not that hard. WordPress makes that easy. Even if you have to delete a ton of posts, WordPress can handle the job. But what if you want to delete posts according to a date range or post status? You could always write a SQL statement to get the job done. WP Mass Delete can also help.
Currently trending WordPress plugins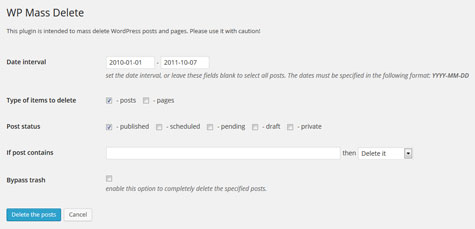 This is a handy plugin that lets you delete posts by date, status, and other factors. Just set the date interval, choose which items you would like to delete from, choose the appropriate post status, and you are set. You could also target posts that contain a specific term. Want to bypass trash? WP Mass Delete has you covered. This is a free script.