Wordpress Tips
Build a Membership Website around WordPress with aMember

In case you haven't noticed, there are a lot of people who are building killer businesses by offering valuable content to their readers on a consistent basis through membership sites. If you have been blogging for a while and know your niche inside and out, there is a good chance that you can make money through your own membership site. You can always apply the "freemium" concept to your content as well (use your blog for free content). aMember is an innovative PHP script that lets you start your very own paid content website fast. The solution is designed to work with WordPress and other top CMS and help you build a more solid community around your blog.
aMember provides support for PayPal, BeanStream, 2Checkout, NoChex, VeriSign PayFlow, Authorize.Net, PaySystems, Probilling, Multicards, E-Gold and Clickbank payment systems. In addition, you can use the system in conjunction with WordPress, Joomla, and vBulletin. It's also translated to 7 Languages, so you can use the software to create international membership sites.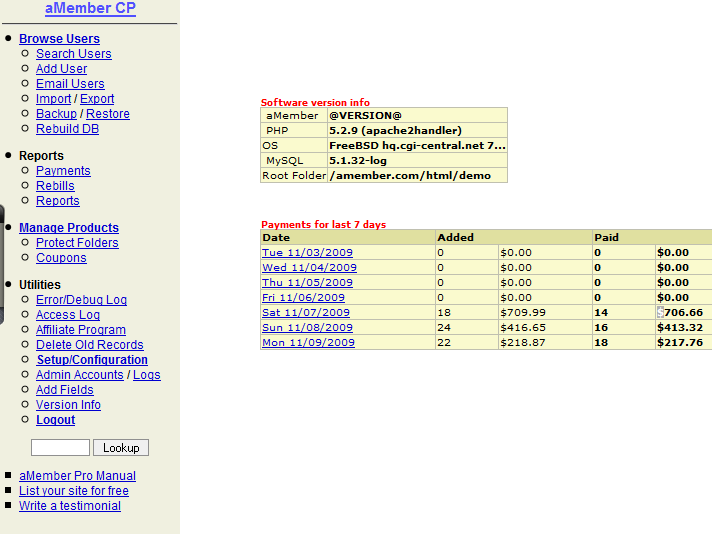 You can easily find out about how much your membership site has made in the back-end. You can add users, import and export your users, and back up your information easily as well. You also have a chance to manage your affiliate program through the back-end as well.
What I like about aMember is not only the fact that it's easy to use and SEO-friendly, but also due to it being compatible with all kinds of CMS via plugins available for it. It's built using PHP, so you know you are getting a flexible system. All in all, aMember is a great tool to get started with your own digital information website. It's not only very easy to install and use, but you can also count on the support of the company behind this product as well. And the fact that the company pays a lot of attention to your site's security is a big plus. All in all, aMember is an easy way to start providing premium content to your customers without having to start it all from scratch.