You may also want to see:
I have always wondered why WordPress doesn't come with a functionality to import 1000 links instantly to my WordPress blogs. The fact is if you are running an affiliate business from your WordPress blog, copying pasting and editing HTML could take a while. The first lesson they teach you in business school is to value your time. If you value your time more than $10 an hour, you want to find a way to do valueless things done more quickly. Wp Affiliate Pro is the plugin for business really. It comes with a dashboard interface that allows you to add links fast to your blog. Also, you have ever thought about hiding your affilite links, then WP Affiliate Pro is your plugin. You don't need to go to TinyURL to hide your links anymore. With Affiliate URL, you define what you want your link to look like, and that's how it will be.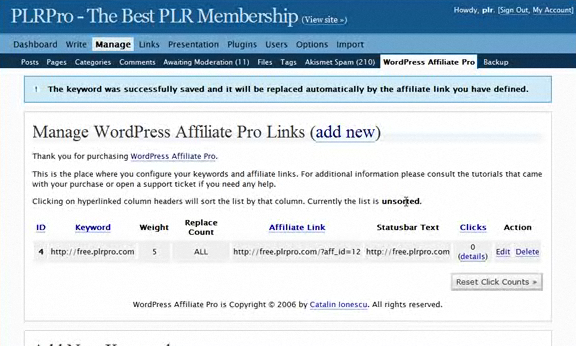 The fun thing about WP Affiliate Pro is that you don't even need to install it yourself. The programmer will install it for you, so you can be sure that you are getting everything you paid for without having to learn a new programming language.