Most bloggers understand the importance of promoting their content the right way to keep their visitors engaged for longer. Adding popular, related, and even random posts to your articles and WordPress sidebar could certainly help. The Popular Posts Bar Widget is an attractive plugin that gives you a more visual way to promote your most popular posts. It displays top posts by the number of times they have been viewed.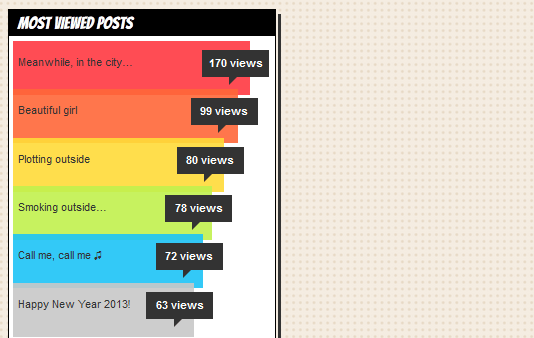 The Popular Posts Bar widget makes it easier for your visitors to find the posts that are currently trending. You have control over the number of posts that show up in your sidebar, thumbnail size, colors, and age for your data. If you know your CSS, you can easily make changes to the look and feel of this plugin. You do have the option to turn thumbnails on and off.

The Popular Posts Bar widget is a nice script to test on your website to grab the attention of your visitors. It lets you display popular posts bars based on views or comments. You may have to play around with its CSS code if you would like to show more than half a dozen of posts though.