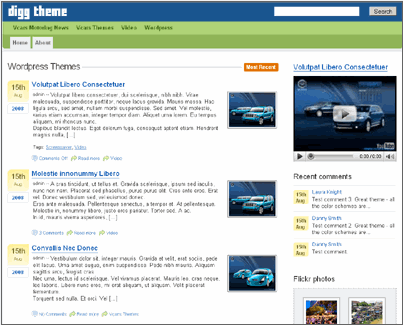 Digg is one of the most popular sites on the Internet. It's a social news site that has become the main source on information for a lot of folks. The site enables you to vote on your favorite stories and find like-minded people in the community. And you've got to love the design. It's attractive and very user-friendly. Thanks to the talented developers at VCARS, you can now clone Digg (almost) on your WordPress blog.
This theme lets you create your Digg-like site and add your thumbnails and videos to it without too much trouble. When you install this theme, you are going to find it extremely similar to Digg's design. The only difference is there is no vote counter on this theme. Instead, you get to display your post date. You are going to need a few plug-ins to get this to work:
This theme uses custom fields to help you integrate YouTube and thumbnails into your blog easily. Flickr integration is done via FlickrRSS.
Overall, if you are looking to duplicate the look and feel of Digg on your blog, you should consider trying this free theme out. It comes closest to Digg's design than any other theme I have seen on the market.