So you would like to allow your customers to customize what they want to buy on your website? You could always add variations to give your customers more options. These product design tools for WordPress can also help:
Currently trending WordPress plugins
WooCommerce Custom Product Designer: lets you change size, color, position, and other customization options. Your customers will be able to choose products, add text  & art, upload images, and make other changes before purchasing.
T-Shirt Designer: a WooCommerce ready plugin that adds a t-shirt designer to your website. It supports text, sticker, and other customization options.
Fancy Product Designer: lets you choose which products and parts of it can be customized. It works on smartphones and tablets too. You can perform various text and image transformations.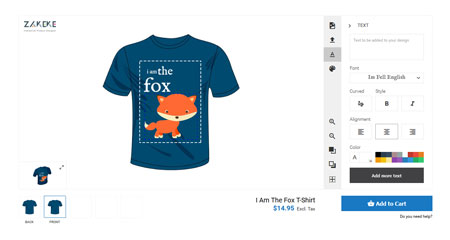 Zakeke 200: a cloud based system that brings live product customization to your WooCommerce store. Your customers will be able to add text/images and change colors.
Online Product Designer: responsive, jQuery plugin that lets your customers make changes via drag & drop. It works for shirts, mugs, caps, and everything else. It offers print ready outputs.
Have you tried any of these? We would love to know about your experience.