WordPress community has created all kinds of WordPress themes for all kinds of websites. What we haven't seen a lot are gaming themes. Gaming is highly popular among the younger generation, which means if you start your own unique gaming site these days, there is no reason you can't earn a very good money online. ARRAS is a highly sophisticated gaming theme that makes it easy to create a gaming WordPress website fast.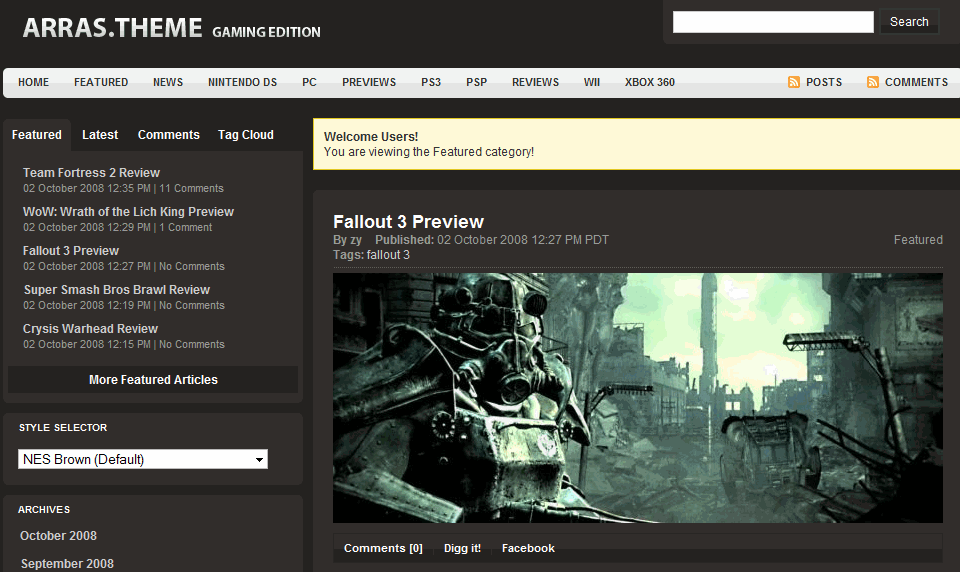 ARRAS is a dark theme that should go easy on the eyes of gamers. It is highly sophisticated and has that premium look to it. You can also use this theme to create your own rating portal. You get 3 different layouts, a scoreboard for your reviews, and supp0rt for WordPress 2.7. Best of all, the theme is social media ready and allows your users to print your blog posts.
ARRAS' back-end is highly flexible too. You can choose from 2 different styles and 3 different layouts available. You can easily add your Google Analytics code and customize your RSS feed. You can change the logo easily as well. And if there is an update to the theme, you'll be notified automatically.
Overall, ARRAS is a great theme for those who want to start their gaming WordPress website. The sky is the limit with this theme. You can create a video-game review website or an accessory portal for gamers. Either way, if you play your cards right, you can gain a lot of visitors and earn a lot of money. ARRAS is a very affordable way to get started with your own gaming site today.
Download ARRAS here.