A few of my blogging colleagues have asked me a few times about a WordPress theme that would allow them to create their own ProBlogger copycat. Problogger.com uses a very attractive, custom-designed theme, which means you are not going to find anything like it on the market. But there are a few themes that come close. Money Blogger by BlogOhBlog comes closest to anything I have seen on the market. It not only has an attractive design, it's highly customizable as well.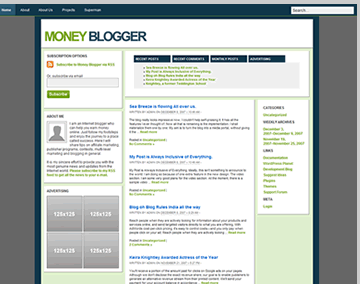 Money Blogger is a theme created for super bloggers. It has everything you would expect in a pro-blogging theme. You get your RSS and subscription box right at the top of the page. You have your links lined up at the top of the page. The logo can be changed easily in the code. You also get an about me section that you should use to communicate with your readers on the reasons they should be reading your material.
Blog monetization is very easy with Money Blogger. You've got two options for your ads. You can use the left sidebar to display your 125*125 ads. Another way to go is by putting your vertical ads on your right sidebar. If you need more space for ads, you can put a 468 * 60 banner under your content tabs (which are CSS based and highly customizable as well).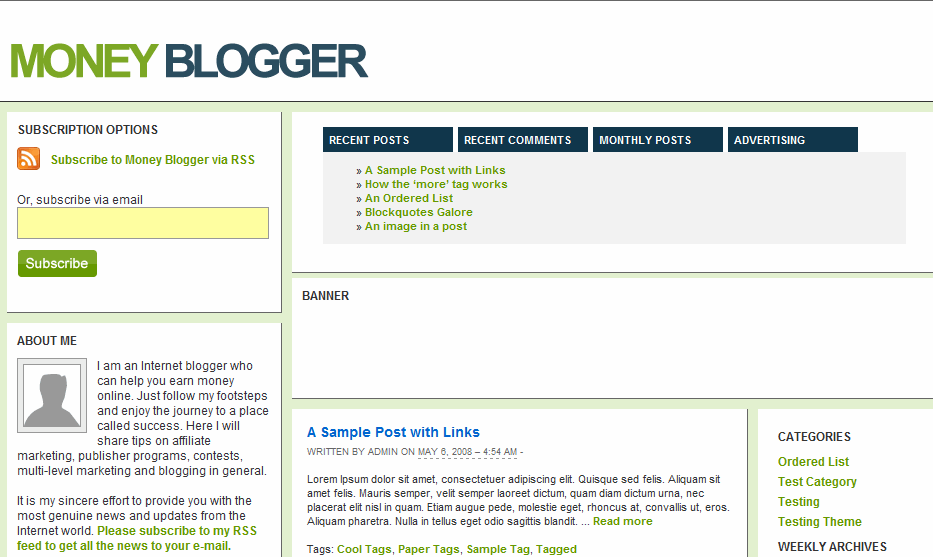 The code is clean and easy to customize. The guys at BlogOhBlog have create a modular theme in Money Blogger that can be easily customized without too much effort. Overall, if you want to start your very own problogging theme, Money Blogger is an affordable way to get started right away.