I got to admit that I had heard of cforms II when it came out a while back, but I never bothered to try it out as I never saw the need to create contact forms for my blog. After all, I could just put my e-mail and other information on "about me" page and forget it. But since I have used it on my business blog, I have been hooked. And I can't believe it's for free. But if you are looking ot create professional contact forms such as the one below, then you should definitely check out cforms WordPress form plugin.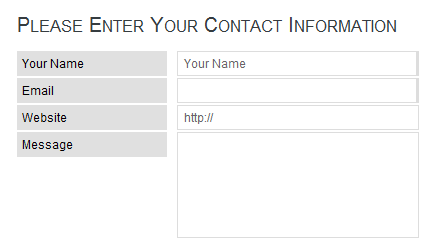 The guys at deliciousday have done a magnificant job of designing this form plugin. When you install the plugin, it shows up next to your comments tab on your WordPress dashboard. So it's very convenient to find unlike a few other plug-ins that are tough to figure out.

Once you click on that link, you are going to get a host of features that allow you to design your desired form. For instance, you can define read only fields, checkboxes, radioboxes, file-upload boxes, radio groups, select boxes, and password fields for your form. In addition, you can disable fields, make them read only, or even clear them on focus. The possibilities are limitless in that regard.

But that's not all. You can customize your messages (success or failure) or change the text and button labels easily with cforms. Not only that, you can define the email address that your readers will see when they fill a form on your blog. You can also redirect them to a whole different page once they have completed your form, which is great as you can walk your readers through your sales funnel.

But what I liked the most about this plug-in was the tell-a-friend feature for some of my WordPress blog. That's one way to go viral, and a lot of people do take time to e-mail about your service to their friends if you over deliver.
The plug-in is very easy to use, and essentially does what it's supposed to do, create brilliant contact forms. I can't believe that the programmers have released this for free, but then again, I am glad they did. Version 9.0 is going to be even better, so watch this space for that. You can get more technical details about cforms II form WordPress pluging on the author's page.