Ladies are probably more familiar with this, but there are plenty of mommy blogs around the Internet, and the market is probably not saturated yet. Mommy blogs discuss all kinds of topics that could be interesting to moms and those who are in the process of starting a family. I don't have to tell you that a killer blog in this niche can be very lucrative. Manufacturers are more than willing to give freebies to mommy blogs, and if you are willing to work hard, the sky's the limit with your blog. But if you don't have a blog or have never owned one, don't fret. By using WordPress in conjunction with f0101 theme from WooThemes, you can start a killer Mommy blog fast.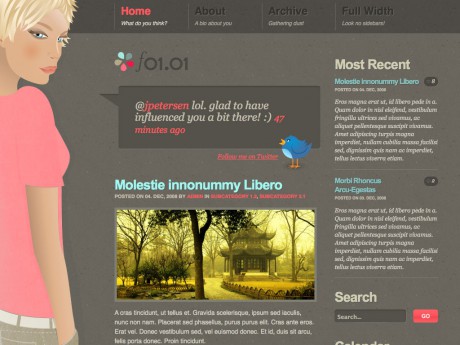 As you can see in the above screen-shot, f0101 is optimized for mommy blogs. You can always change the image of the lady on the left side of your screen with an image of yours. There are places that can create a digital image of you for your blog, so you want to let them know what you are looking for and where you want to fit your image.
What I like about most WooThemes themes is the fact that they come with multiple color schemes f0101 theme comes with 10 color schemes that you can choose to customize the look and feel of your blog. The theme is also social media ready, giving your visitors a chance to follow and interact with you on Twitter.

Just like all WooThemes themes, this theme is also built upon WooThemes framework. So you can easily customize the look and feel of your website. You also get a very flexible back-end and 12 widgets to customize your design in a flash. All in all, if you are looking for a quick way to go online with your mommy (or daddy) website fast, f0101 is a decent theme to consider.