I don't know about you, but I am constantly on the look out for the best WordPress themes on the market. There are just too many of them around and choosing the right WordPress theme could take a lot of work depending on what you plan to do with your WordPress website. Getting a premium theme wouldn't cost you more than a couple of hundred dollars, but if you have more than one website in multiple niches, you are going to need a WordPress membership such as that of WooThemes. Essentially, these sites provide you with unlimited licenses to lots of themes for a monthly fee. So instead of paying $200 to get an unlimited license to a single WordPress theme, you get your hands on 10-20 premium themes for $15-$30 a month. If you own lots of websites, that's really the best way to go without you going broke, spending all your budget on all kinds of premium themes.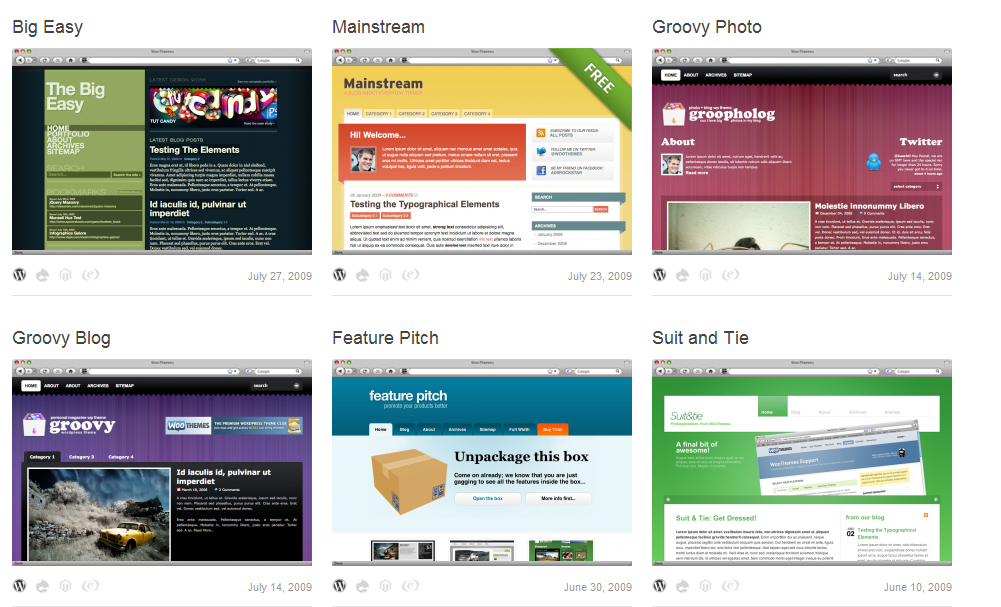 WooThemes is one of the best membership sites on the Internet that I personally recommend to my clients and colleagues. There are a lot of membership sites that provide you with low quality, rehashed themes on a monthly basis. With WooThemes, almost all its offered themes are very high quality and exciting. And the developers behind these themes don't only focus on one or two category. They provide all kinds of themes for all types of websites to help you expand your website portfolio and build vlogs, portals, blogs, and startup sites.
WooThemes' business model is very simple. You can either buy a single theme for a couple of hundred dollars or you can join its membership plan and get your hands on all the premium themes. There are two classes of membership available. You can choose the standard plan that will cost you $125 up front plus $15 a month fee for theme updates. If you are hardcore and want to build your own unique themes from WooThemes products, you should sign up for Developer Club Membership. It costs a bit more but at the same time you get all the PSD files, so you can use these themes to build unique, better themes for your website without having to start from scratch.

Why WooThemes:
A lot of folks feel more comfortable using free or cheaper WordPress themes. But I can tell you from experience that you can't get the same quality in a free theme as you do with a well-designed premium theme. WooThemes comes with lots of themes that you can use for your blog, vlog, or news portal. But that's not the only reason why you should consider getting a WooThemes membership. Here are a few other reasons:
New Themes: a WooThemes membership gets you access to new themes on a monthly basis. So you keep getting more themes that you can use on an unlimited number of websites.
Flexible Plan: the plans are very flexible and you can cancel at any time. You get to keep the themes you have downloaded too!
Credit Link Removal: you can remove the credit links from the footer of your theme even if you are not a paying member anymore.
Design files: with a Developer Club membership, you can easily customize your themes and develop unique versions fast.
Bug Fixes: all the bugs and compatibility issues are addressed fast by WooThemes' developers. Well worth the investment.
So what do you get with WooThemes? Here are the type of themes that you get with WooThemes:
As you see, WooThemes membership plans are great for people who own multiple websites and want to have a unique look and feel on each and every website. If you belong to that group, WooThemes' plans are a great way to save money and get the best designs on your WordPress websites.