WordPress makes it easy to manage your content. But it is not perfect. There are things you can do to optimize WordPress to deliver better performance and save you from major headaches when your site starts growing. Uploading thousands of images to a single folder is a bad idea, especially if your server does not have a SSD. But that is exactly what's going to happen if you publish 20 or 30 articles a day and use a sophisticated magazine to showcase your content.  Custom Upload Dir helps you get around this issue. It is a versatile plugin that lets you create custom paths for your file uploads.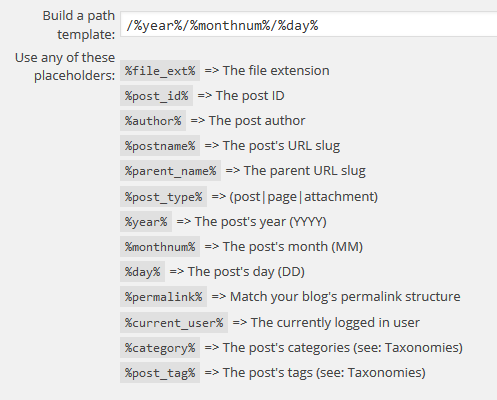 The plugin lets you build a custom path template quickly. You can include post ID, post author, day of the week, category, tag, and other options to build your path. After consulting with multiple Linux experts and web hosts, it has become clear to us that organizing images in folders based on the day of the week is the best option to go with, assuming that you post a lot to your site on a daily basis. Your image URLs are going to look less clean, but you are going to have less performance issues when your site grows.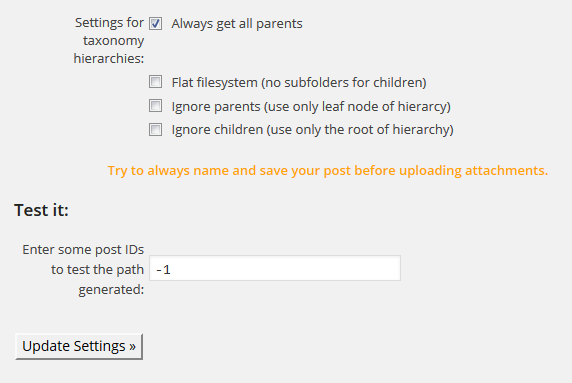 It is important to note that not all servers are created equal. You are going to have more flexibility when it comes to handling files when you have a fast SSD as a storage option. SSDs for dedicated servers are not cheap at this time though. We have had a lot of success with this plugin. Just a few months ago, we simply could not backup our server due to having thousands of images in each monthly upload folder. Things have gone a lot smoother after a major clean-up and using the Custom Upload Dir plugin.