Contact Form 7 is one of the most popular contact form plugins around. It is powerful on its own but you can always extend its capabilities with the right add-ons. Thanks to Drag and Drop Multiple File Uploader, you can make it easier for your visitors to upload files via drag & drop. This plugin has an AJAX uploader and performs file type validation.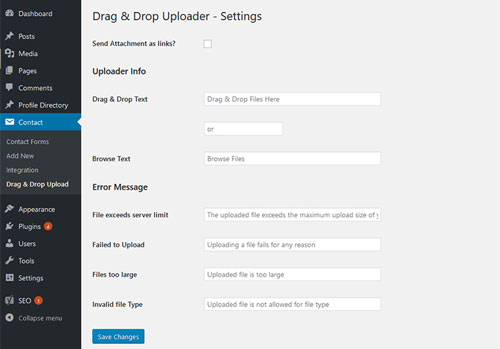 Webmasters have the option to limit the number of files that can be uploaded and their size. They can also choose custom file types and extensions. Multiple files can be uploaded with a contact form via drag & drop. It has a upload progress bar too.
The free version of this plugin comes with lots of useful features but the pro version is even more powerful. It shows thumbnail for images and can delete files after a certain period of time. It can also save files to WordPress Media Library. It also supports parallel/sequential & chunks uploads. The pro version can even auto-optimize images.