I am sure by now you have had a chance to check Twitter out for yourself. If you haven't, you really should. Microblogging is the future of blogging and Twitter doesn't show any sign of stopping. So go check Twitter out if you haven't already.
Many bloggers that I know are way afraid of the commitment that they need to put forward towards Twitter. It's true that you have to take care of your twitter account, but at the same time, you can use the free plugin Twitter Tools to simply your tasks such as posting blog notifications to your Twitter page. In essence, you can keep your Twitter followers up-to-date all the time by automating the process.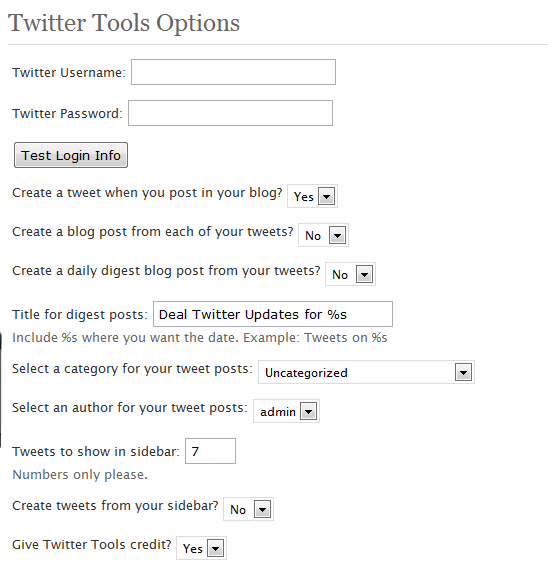 This plugin is very easy to use. All you have to do is activate it, and you can access your plugin settings under setting tab of your WordPress dashboard. It is also a widgetified plugin which means you can just drag and drop your twitter posts to your WordPress blog. My favorite feature though is the daily digest feature. Basically, if you use tools such as Thwirl to "tweet" heavily daily, then you can use this tool to create digests from your Twitter posts and put them on your blog. Think about it. You can put your focus on your twitter account and your major updates will be automatically inserted to your blog. Overall, this is an extremely useful plugin, and it is for free, so definitely check it out.
Here is how to install Twitter tools:
Download the plugin archive and expand it.
Put the 'twitter-tools.php' file into your wp-content/plugins/ directory.
Go to the Plugins page in your WordPress Administration area and click 'Activate' for Twitter Tools.
Go to the Twitter Tools Options page (Options > Twitter Tools) to set your Twitter account information and preferences.