Google+ is very dear to my heart. Even though I don't personally discuss WordPress on Google+, there are many professionals who do. Google+ may not drive as much traffic as Facebook or Twitter to your website but it is a community you should not be ignoring. With the launch of Helpouts, WordPress gurus now have more ways to earn money and share their expertise with the world. Here are 8 ways you can use Google+ Helpouts to grow your business: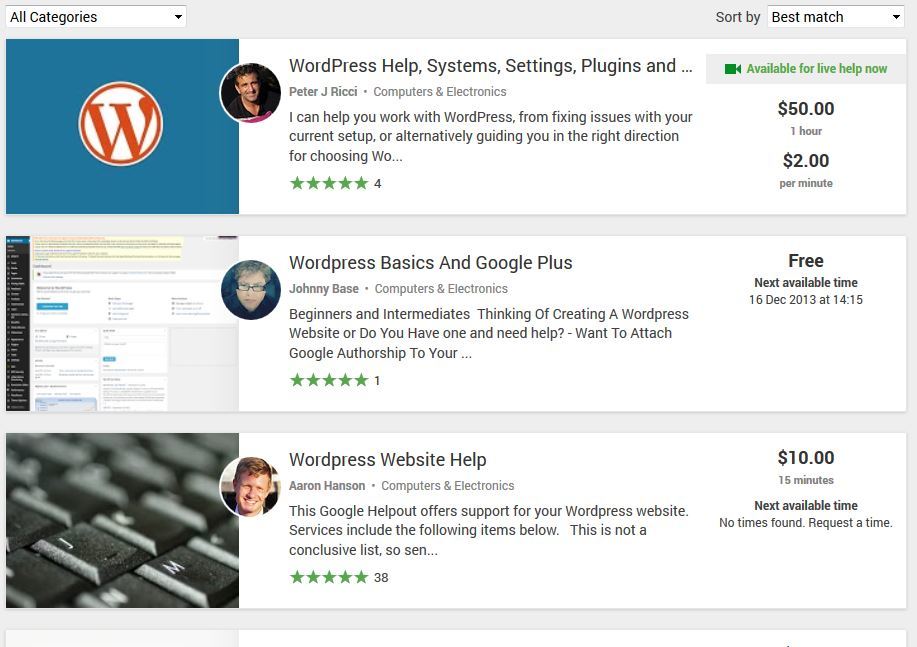 Offer premium help: guess what? Lots of people are already doing this on Google+. Sure, some of them probably don't know as much as they should. Nevertheless, this platform has given them the chance to promote themselves as an expert.
Troubleshoot for free: charging for every little bit of help you offer others is not a great idea. You are going to make more friends by helping people out for free and letting them know that you do have a business they can rely on in the future.
Cover theme / plugin tips and tricks: offering the same things everyone else is offering on Google+ is not a great way to stand out. You could always cover advanced theme and plugin tips and tricks to offer unique value to the community.
Target niche markets: going back to the previous points, I know a lot of professionals who simply don't know how to use WordPress properly. All these lawyers, dentists, and small business owners could use tips that target their specific ventures.
Get technical: it is so easy to install WordPress and a few plugins. You are not going to have a lot of success as a WordPress pro if that is what you offer. Sharing what you know better than most others is key to success.
Use free Helpouts to promote your website: this is a no brainer. Sure, you can earn money by offering all kinds of silly Helpouts. Why do that when you can give people something for free to build goodwill and drive traffic to your main business?
Give a part of your products for free: writing a book about WordPress? Creating a premium tool to generate revenue for your business? Why not give a part of your product for free to get more people interested in more things that you have to offer.
Don't forget WordPress developers: most Helpouts on Google+ target WordPress beginners. There is nothing wrong with that. But developers and more advanced users need help as well. I can't tell you how many theme and plugin developers contact us asking for advice on ways they can promote their products better. Just think about the possibilities here.
Helpouts can be a lot of fun if you do them the right way. I suggest you start with free Helpouts and try a few before asking people to pay you money. Just do your homework before accepting Helputs as the Google+ community can be very unforgiving if you are not as helpful as you claimed you were going to be.