WordPress theme clubs are quite popular among WP addicts, designers, and freelancers. There is a lot one can learn by going through some of these clubs' offerings. Also, by being a member of these clubs, you can use their themes to develop websites for your clients or yourself (depending on their license). Unfortunately, not all WP theme clubs are worth being a part of. There are plenty of them that have bogus rules and unfair structures. Besides, a theme club is not worth paying for if proper after-sale support is not in place.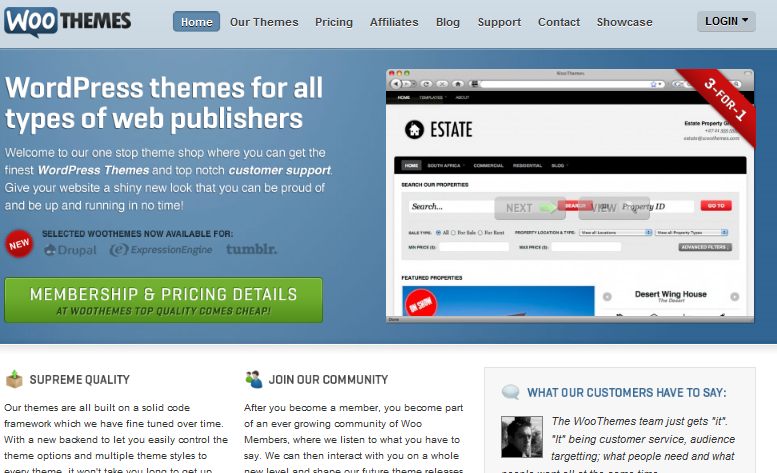 WooThemes is one of few clubs that have gotten it right. At the end of the day, it's not about how much one charges for themes or how great those themes look. It's about providing value to customers. Those theme clubs that do not have a customer-centric approach won't last long. With that said, here are 10 mistakes that new WordPress theme club businesses should avoid:
Being vague about what you offer: so you are selling themes? That is not clear enough. Theme clubs need to be clear about what they offer and what restrictions they impose on their customers. Let's take WooThemes as an example. Every theme has a section that details how much it will cost you. Their offer page explains what you get with each package. The more questions you answer beforehand, the better off your club will be.
Not giving your customers an easy way to download your product: so many of these so-called "theme clubs" just send you a link and tell you to download the files in 24 hours or else. Of course, most of these businesses will send you a replacement link if you slip up. But that's not what a theme club should do. If I pay for something, I want to have the ability to download it anytime (2 hours or 2 quarters from now).
Having a bogus price structure: recently we started working with a theme club that had some exciting products. But these guys started changing their pricing structure every month. They also asked for a monthly payment out of the blue. These are things you don't want to do unless you can offer something in return (more theme releases, …). Needless to say, we won't be working with those guys anytime soon.
Failing to create your own video tutorials and demonstrations: getting your customers involved, asking them to upload tutorials for your themes is nice. But theme developers know their themes better than anyone else. Don't hesitate to pump new content about your themes into your business blog and share them with your prospects and existing customers.
Failure to reply to customers' questions: we have all been there before. You buy a product and assume you are going to get support after your purchase only to find out nobody's home when you contact the business you have just made a deal with. Customer service should be the top priority for every theme club.
Not understanding your own license: if you are planning to use GPL as your themes' license, you want to make sure you fully understand it. It's funny how some theme clubs make demands and put restrictions on their GPL themes that go against what's allowed under that license.
Failure to understand the meaning of your club: club may not be a fancy name, but it should mean something for you and your customers. If your themes and what you offer are available all over the place and not exclusive to your club members, then you are in trouble. Also, you can't ask people to pay you a subscription fee if you don't develop new products on a consistent basis. There is no justification for asking your customers to pay you on a monthly basis if you only develop new themes once every 4 months (unless you can offer other things on a monthly basis).
Forgetting to keep up with developments in your industry: running a theme club is more than just creating themes and forgetting them. Your customers will expect updates as often as you can provide them. So if you coded your theme when WP 2 came out and have not updated it till now, that is not going to reflect well on your business.
Lack of dedication to innovation: many theme clubs start fast and suddenly slow down after making some money. Those of you who want to build a big business in the long-term need to continue innovating and pushing the envelop.
Not getting your community involved: there is no reason not to rely on your existing club members to help you push your business. Many theme clubs feel hesitant about starting an affiliate program or giving their members some incentive to promote their products. It may take a bit of work, but it's worth it in the end.
Creating a WordPress theme club may be a great way to start making some money from your work. But being greedy or unreasonable is not going to help you in the end. Besides, if you ask for too much money or put too many restrictions on your themes, your offer could become non-competitive. At the end of the day, focusing on your customers' needs is the best way to succeed in this business.
Currently Trending Themes