Blogging is a tough business. It may look easy on the surface, but you have got to research your topic, check your sources, look for images, and do all kinds of things to write a great blog post. Many bloggers struggle with getting more done in less time. You can always cut corners, but that's the best way to kill a blog. Productivity is a big issue when blogging, which is why you should use as many tools as possible to become a more efficient blogger.
Lizzer is a Web 2.0 platform that allows you to get more work done on your WordPress blog. It is designed to help you find great content for your blog. Whether you are looking for a piece of news or an interesting image on Flickr, you can do it all with Lizzer. Lizzer provides you with a bookmarklet that you can open up over your WordPress interface and grab content from. Here is how it works:
First you got to sign up for an account on Lizzer.com. It's free, so you don't have to worry about paying them anything at this point (though the service is well worth the money). Once you are in, you are going to see the following interface.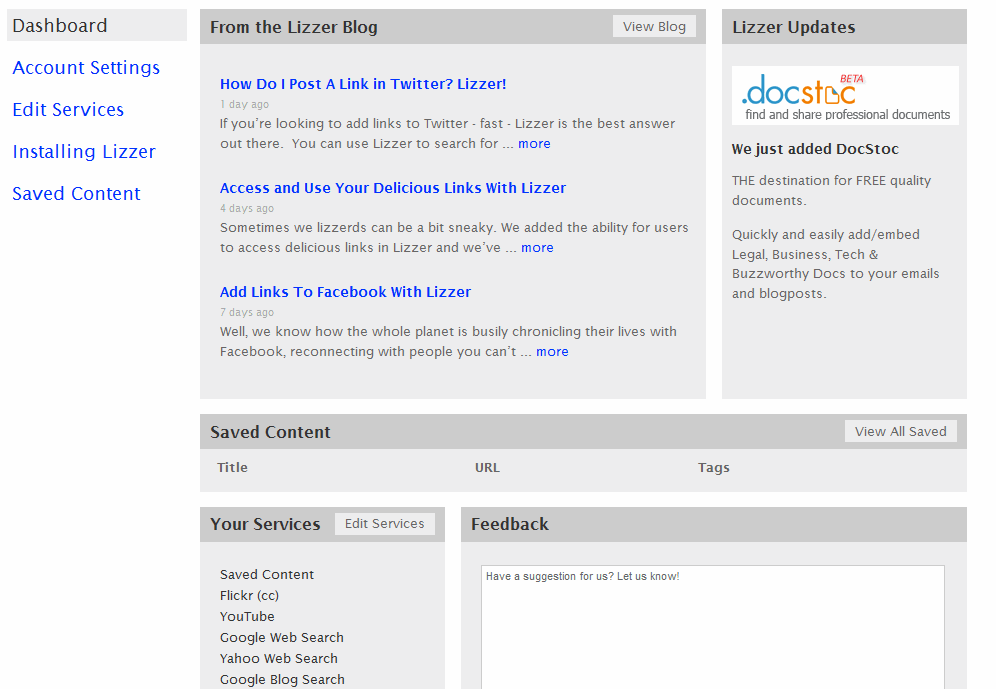 This is where you can customize Lizzer for your blog and install it too. You can customize the services you are interested in under "Edit Services" section. Here is what you get:
Web

Delicious
Google Web Search
Yahoo Web Search

Document
Images

Flickr
Google Image Search
Yahoo! Image Search

Blog
News
Video

Google Video Search
YouTube
Once you have added your 7 favorite services to Lizzer, you are ready to get started with some blogging.You can start Lizzer by referring to Intall Lizzer section. Here is what you'll see: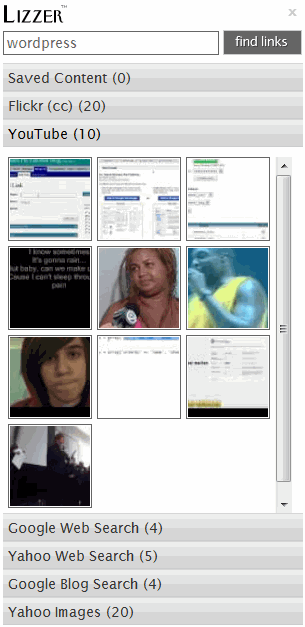 As you can see, you can search for your topic at the top of this widget, and it finds appropriate content for you based on your keyword. The good thing about this widget is that it is not dependent on WordPress. You can use it on Facebook, WordPress, and even Twitter. It comes on top of the service you are using, and from there you can grab content and insert it to your blog without too much trouble. Here is how you would insert video to your blog: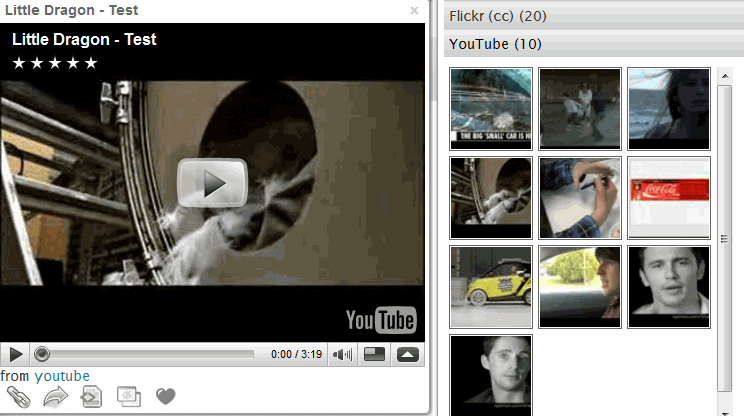 You can insert just the link or the whole video to your blog by clicking on the appropriate button under the video. You can also save the video for future uses by clicking on the heart symbol.
As you can see, Lizzer is a great way to find content and add them to your website fast. Depending on your keyword, you can find all kinds of content on Lizzer. And it gives you access to all your favorite services. Best of all, it works with Twitter, Facebook, and other top sites as well. What's not to like?