WP Solutions
Wibiya: Take Your WordPress Blog to the Next Level

Recently, I came across a very cool service called Wibiya, and I thought it'd be worth trying it on this very blog. Wibiya is an innovative service that can help your visitors navigate through your content more effectively and find what they are looking for faster. The concept is really simple. Once you install Wibiya on your blog, it's going to add a footer-bar to your blog that your visitors can use to translate your posts, check your most recent blog posts, and even share them with their friends on Facebook, Twitter, and other social networking websites.
Wibiya adds the above bar to your footer. As you can see, your readers can use it to search for more information, look at your most recent posts, visits a random post or even connect with your blog through Facebook connect. They can also sign up for your RSS feed and follow you on Twitter. And who can forget about the "Share" feature that makes it very easy for your readers to add your site to top social networking sites.
Installing Wibiya is not that hard either. All you have to do is define what type of blogging system you are using, and you can grab the appropriate code to install on your blog. I currently use the Javascript snippet that is compatible with all blogs rather than the WordPress plug-in. But they both get the job done regardless.
Wibiya also provides you with a cool set of statistics to help you find out what your readers are doing on your blog. It shows you how many people have visited your community, how many times your posts have been translated, and how many times your posts have been shared.
You can also customize what shows up in your footer-bar. So you can pick and choose what shows up in your footer-bar. I personally have as many applications in my footer-bar as possible but you can pick and choose the ones that work for you.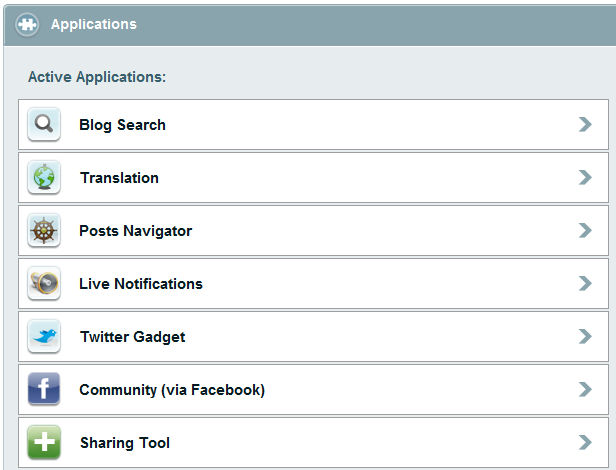 All in all, Wibiya is a cool little service that helps you build a community online around your WordPress blog. It's very easy to use and attractive. And best of all, it is not intrusive so it doesn't take away from your readers' reading experience on your blog. It's free too! A win win situation.