I am personally not a big fan of blog automation. If you are a serious blogger, you want to minimize blog automation as much as possible. Your personality and your tone can't be automated on your blog. So if you are a true pro blogger and don't want to turn your readers off, you want to make sure that you take time to communicate with your readers through your very own words.
But there are exceptions to this rule. What if you wanted to create a movie blog to review the latest Hollywood movies? If you go through the list one by one and blog about them, you are going to spend a lot of time getting movie information down. It's not only not productive, but it sets you back hours with your work.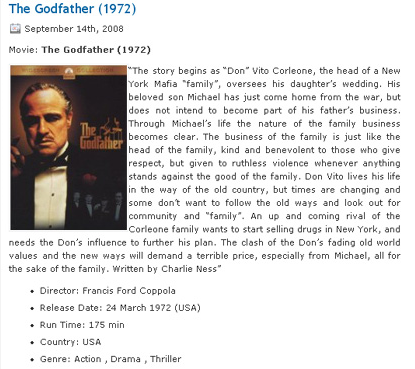 That's why I love solutions such as MovieAutomater. It's true that MovieAutomater is a hardcore automation service for WordPress. But it does save you time as it imports all the information you need to create a huge movie portal. You are going to spend less time worrying about where to grab the information and more blogging about your favorite movies.
Here is what you get with MovieAutomater:
Import more than 1 million movies from imdb
Blog Posting Schedule
Import Movie Poster
Import Movie Plot
Import Director Name
Import Release Data
Import Run Time
Import Country
Import Genre
Import Tagline
Import Trivia
Import Goofs

Importing movies to your WordPress blog can't be much easier. If you have bought a theme like VideoFlick and are not sure how to build up your blog fast, you should definitely consider MovieAutomator. You can import thousands of movies into your blog within seconds and spend most of your time writing content instead of doing the dirty work.