Magazine WordPress sites have been on the rise. There is no question that WordPress makes it easier for people to manage highly complex magazine-style sites, and thanks to the WordPress community there are lots of magazine themes available to the public. Vanity is another cool magazine WordPress theme that allows you to create your very own magazine-style website fast.
Vanity is not only very attractive, but it is also very flexible, which means you can make changes fast and create your own unique version in no time. The theme comes in two colors (Pink & Aqua). What I like about this theme is the placement of the newsletter (RSS) box. As long as you can drive traffic to your website, you are going to get a lot of leads as it will be hard for folks to ignore your newsletter feature. Vanity comes ad ready. You can easily ad your Adsense or third-party ads to the top of your page and start making money from your website.

The Carousel article slider is very useful too. You can load up your top stories there and let your users slide through them. The stories include a passage from your original articles plus the thumbnail version of your images.

The meat of the theme brings you a lot of opportunities to provide value to your users. Not only you get to display your posts on the left side of the theme, you can integrate your videos and pictures on your sidebar. The middle-bar is designed to allow you to promote your sponsors and monetize your website.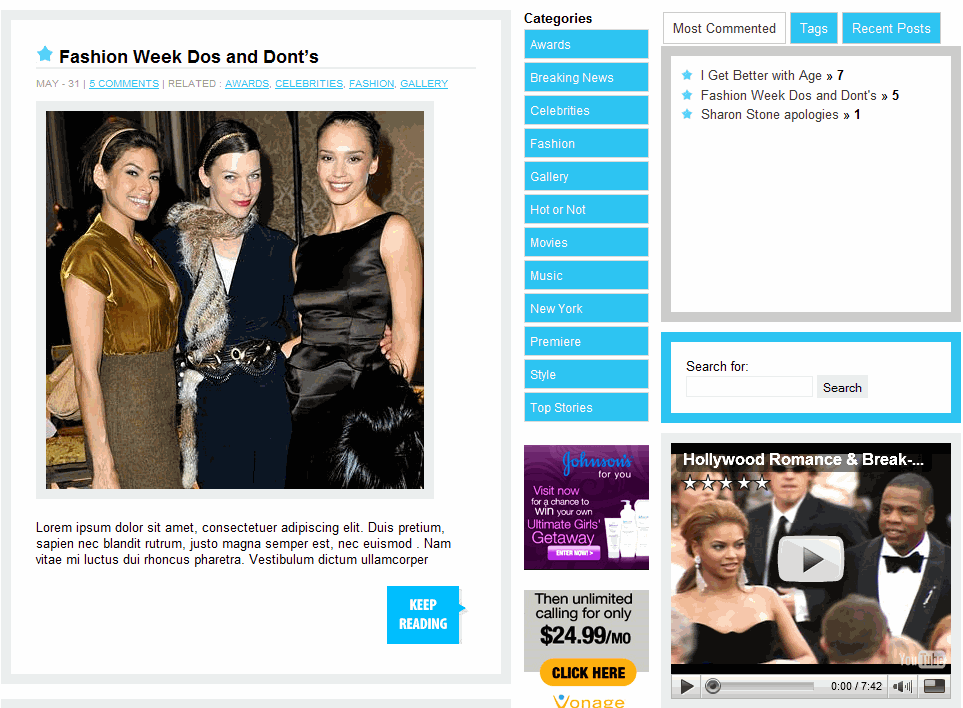 Vanity is a fully-fledged magazine theme, which means you get everything you need to create a sophisticated site fast. Here is a summary of features that you get with Vanity:
2 Colors (Pink & Aqua)
Carousel Article Slider
Customize your logo fast
Gravatar Support
Middle Category Section
Widget Ready
Customized Archives and Search Pages
Stylesheet switcher
Feedburner Integration
IE6, IE7, Firefox and Safari compatible
Extensive help and tutorial included
Turn all-or-individual banners on/off
Image Auto Resizer
Random Video Rotator (copy/paste code)
Flickr Integration
If you are looking for a good looking theme to start your own magazine , you should strongly consider Vanity.