We all hate people leaving our website early. Unfortunately, that happens a lot of times, especially if your site is not optimized. Thanks to WordPress Exit Strategy Pro, you can redirect all external links through an exit page and display ads or social bookmarking buttons to your visitors before they leave.
WordPress Exit Strategy Pro gives you one last shot to promote your business or offer deals to your visitors before they visit another site. You will also be able to encourage them to promote your site on social networking sites. Simply create an exit page, choose delay time and redirection options, and select pages to exclude.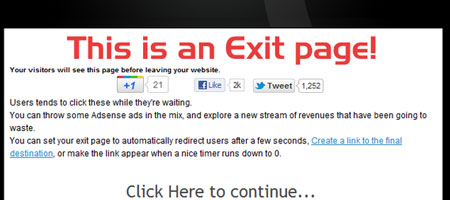 You have the option to exclude URLs that should not be redirected to your exit page. You can also allow your visitors to skip the waiting time by liking or tweeting your site. This is a commercial plugin.