WP Stuff
WP Engine Review: Secure, Fast, Not For Everyone
In the past few months, we have heard a lot of good and interesting things about WP Engine. For those of you not familiar with this hosting service, WP Engine is all about managed WordPress hosting. The service is designed to offer clients a fast and secure experience. Prices are fairly affordable unless you have more than a few websites. Even the Business Plan, which goes for $249 a month, entitles you to 25 WordPress installs, 400k monthly visits, unlimited data transfer, and 30GB local storage. I have to warn you that if you are moving to WP Engine from a VPS or dedicated hosting account, you are going to be in for a few surprises. WP Engine does offer lots of great features, but it also keeps you from breaking things by applying certain restrictions.
Account Settings & User Interface

I am a big fan of cPanel and WHM. I have been using them for a long time and have no trouble figuring things out in those environments. WP Engine has a very interesting user interface. You can add domains, enable CDN, backup your website, handle Git pushes, access phpMyAdmin, and go through your error logs when you click on the Install link. The Home page shows you how many visits you have received.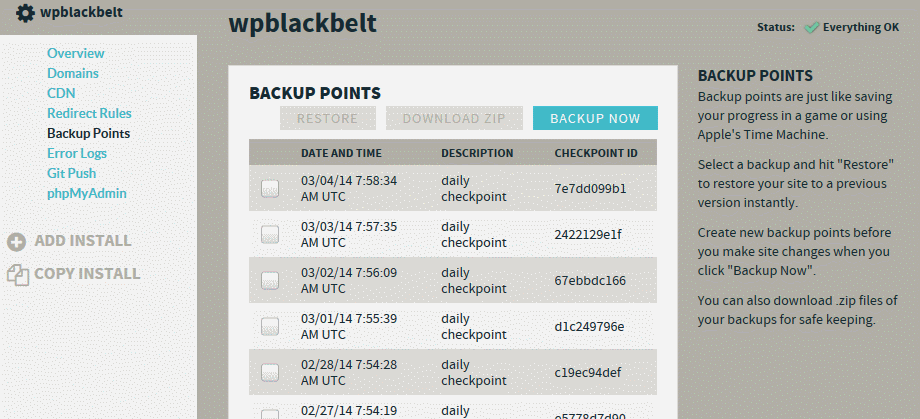 What's neat about WP Engine is the fact that it makes many boring tasks easy. For instance, you really don't have to struggle to add a new redirect rule or access your backup files from a couple of days back. If there are any errors, you can easily go through your logs to make sense of them. Want to create an exact copy of an install with the same content, widgets, and settings as an old site? No problem. These are all features that work great for folks who really don't want to get their hands dirty when it comes to bringing their new sites online.

Speed & Security
I do have a few problems with WP Engine. But speed was never one of them. The sites you host on WP Engine will be fast. Will they be as fast as a website that has a $1M annual budget in addition to plenty of advanced servers and web experts to rely on? Probably not. But that's not the point. WP Engine provides faster speed with multi-server clusters, custom in-RAM caching, and fast hardware. The downside? There are certain plugins you won't be able to install & keep, including W3 Total Cache. Kiss those database intensive related post plugins goodbye as well. You do have the option to enable your CDN to get an even better performance.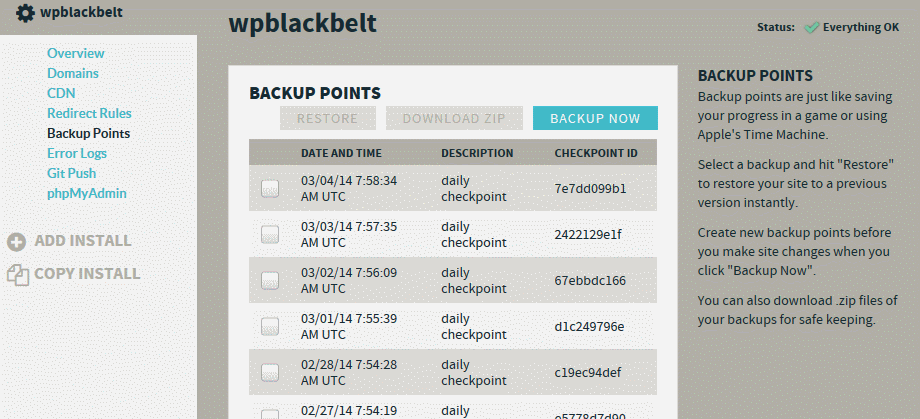 You may not get as much control over your WP Engine server as you do with a dedicated hosting account offered by, let's say, KnowHost. But you do get great performance and security. That's not to say that other web hosts don't keep their environments secure. But WP Engine offers a firewall and malware scanning to make sure you don't mess things up with your silly scripts and bad practices.
Storage & Bandwidth
You get unlimited data transfer with your WP Engine account. Website visits are a different story though. Here is how a visit is defined by WP Engine:
We take the number of unique IP addresses seen in a 24-hour period as the number of "visits" to the site during that period. The number of "visits" in a given month is the sum of those daily visits during that month.
I have to say, WP Engine does a great job explaining what counts as a new visit. I am just not a fan of this approach. It might work for you but I prefer web hosting services that impose a bandwidth limit instead. Keep in mind, this is not a flaw or a plus for WP Engine. Some people love it, and some hate it. I happen to dislike it.
WP Engine does have its LargeFS system to take care of your storage problems. It also relies on EverCache to make your site faster.
Plans & Pricing
WP Engine has 4 different plans at the time of this writing: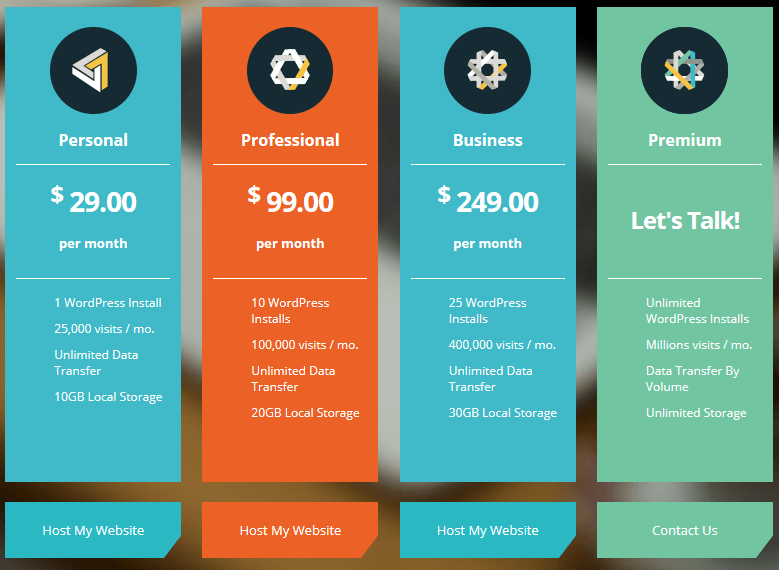 The Personal and Professional plans are very reasonable. The Business plan costs almost the same as my dedicated hosting plan with KnownHost. The Professional and more advanced plans offer CDN, WP Engine / 3rd Party SSL, and telephone support. You can also build WordPress multisite communities when you get those plans. Unlimited installations are available to Premium users. They also get dedicated hardware but there seems to be costs for excessive data transfer. I have only tested the Personal plan, so I can't vouch for the other ones listed here. What happens if you go over your plan's limitations? You get charged $1 for each 1000 visits over the limit.
Cool Features and Special Goodies

As you can tell, I am conflicted on WP Engine. It is a great service but has limitations that are simply too much for me. But I am an extreme user. I enjoy breaking my server, so I can learn new things. I don't want to be limited in any way, shape or form on my own server (let's face it, there will always be some limitations regardless of who you work with and how much you pay). I did find WP Engine very responsive and easy to use. The support is simply great. These guys have gone out of their way to answer questions, so you can get started with your new account quickly.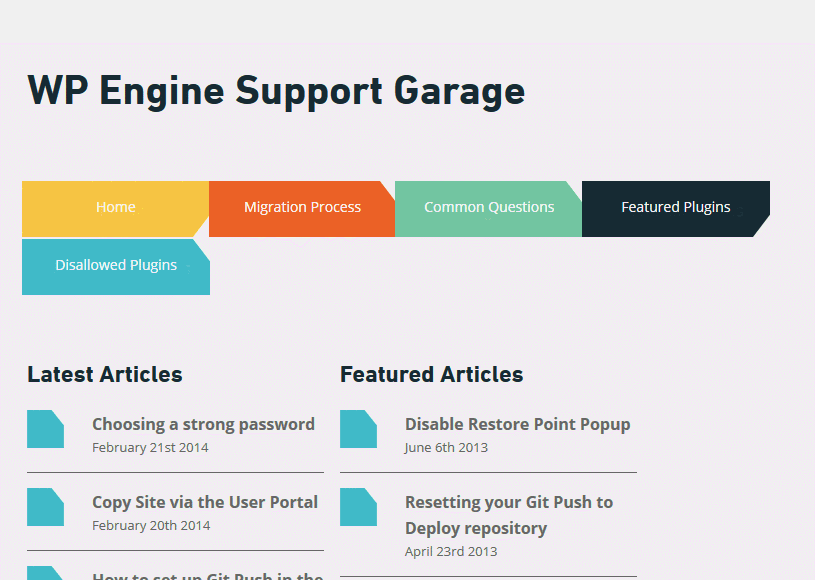 The staging area is a nice touch. It allows you to test ideas before going live. This way, you don't have to break your site to try new things. You also get Git support, easy backups, intuitive redirection settings, and the ability to copy existing installations. The prices are low considering what you get.
What's not to like?
Here is where I should just continue praising WP Engine and push my affiliate link one more time just to make sure you buy. But here is the thing: I really do care about offering honest reviews. To do this review, I signed up for an account and played around with it for a while. I searched forums and asked questions from people who have used WP Engine much longer than I have. Would I consider switching to WP Engine from my current host? Not at this time. WP Engine is a brilliant service. It is very user-friendly and has lots of potential. I simply can't live with the limits and restrictions. I need to be able to break things and have full access to my server. That's my job, though. A business owner with tons of other things to worry about probably does not have time to play around with fancy scripts and try different Nginx tricks.
Many folks assume that you need to be a tech genius to sign up for a service from a company like KnownHost. I have a managed plan and am not as experienced in this area as some of my colleagues. The folks at KnownHost have done me a ton of favors. Nevertheless, they can't automate everything like WP Engine. You get more control over things. If you know what you are doing, that's a huge positive. If you don't, you could seriously hurt your business.
Recommendation
So what's the verdict? I am conflicted on this. I think WP Engine has lots of potential. It could work great for bloggers who don't want to spend a whole lot of time tweaking their server. It could work great for small businesses that run on a tight budget. WP Engine offers a fast and secure service to give business owners peace of mind. These guys have gone out of their way to make getting things done easier for their clients. At the same time, there are restrictions, disallowed plugins, and a new user interface for you to deal with. It will work great for folks who just want no-nonsense WordPress hosting. For "extreme" users like me, there are more interesting options out there.