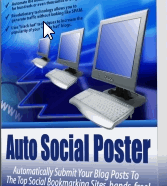 Currently Trending Themes
I don't know about you but posting my WordPress blog to social bookmarking sites takes me a whole lot of time. I even tried hiring a few people to do that for me, but that really cuts into your profit. After all, why would you want to outsource a task that can be done in-house with a software package.
That's where Auto Social Poster from Mass Automation comes in. These guys are serial WordPress plug-in makers, and they have done it again with Auto Social Poster plugin. Auto social poster is the first fully-automated service that i have seen for submitting WordPress blogs to social bookmarking sites. The package comes for both Joomla and WordPress, so don't worry if you are not yet a believer in WordPress.
Here is how the program works. You provide it with information about your bookmarking accounts. Then you define your tags for each post and publish your posts.That's really all there is to it. The software will grab your tags and submit your posts to your bookmarking sites. You can also do a little social gaming and post to multiple accounts from one blog. Now I don't recommend doing that, but it's a possibility.
What I like about Auto Social Poster is the fact that the programmers understand the issue of spam. Social bookmarking sites have become sophisticated over the years in fighting spammers, and the last thing you want to do is look like you are spamming the system. Auto Social Poster has measures to protect you against that such as posting gradually instead of posting a mass number of pages to social bookmarking sites.
The software is not cheap however. You can use this social wordpress plug-in for 100,000 posts, but it will cost you $199, which is about 5 pages for a cent. For me, that is why way more than worth it. Some rent a coder guy charged me $100 to 3 of my sites to 100 social book marking sites, so if I wanted him to do that for 100,000 posts, I would've had to pay him a fortune. But with this web application, you are in control, and everything's done automatically. If you have lots of content, and you are tired of contracting people to do your social bookmarking, this WordPress plugin may be for you. But if you are just starting with blogging, then you may want to settle down before getting Auto Social Poster plug-in.