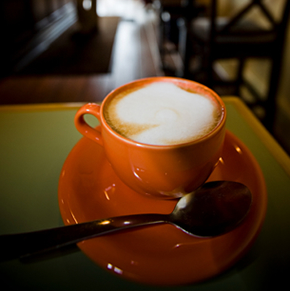 Own your very own Coffee shop or Cafe? Haven't had a chance to build your online presence yet? Then, today's your lucky day. Cafe Press is a business WordPress theme that is designed specifically for folks who own their own restaurants, cafe shops, and anything else in between. Cafe Press is very attractive and can help you not only attract new customers, but you can also push your branding efforts to a whole new level.
Cafe Press is a very simple WordPress. It is designed for folks who value simplicity and design above everything else. But don't for a second question the power of Cafe Press. On the front page, you get a chance to make a first impression with your customers. Let's say you run a restaurant business. By putting a picture that shows your potential customers what you are all about you can make an instant connection with them.You also can put your phone information, address, and your work hours right on your front page so your visitors can contact you right away.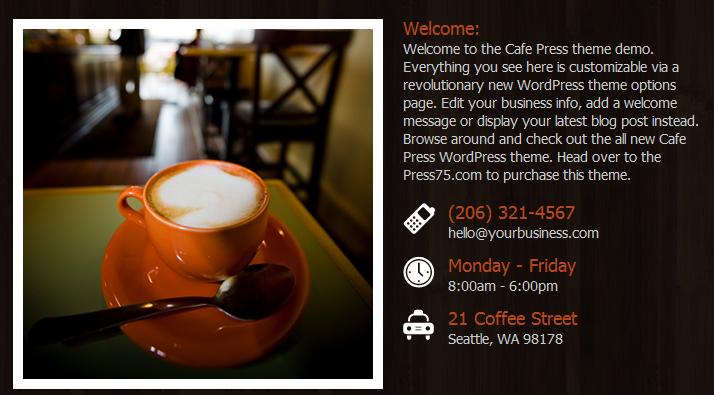 On the sidebar, you get a chance to display your blog posts. Your blog posts can be anything you want them to be, depending on your business. For instance, you can put your daily menues to give your visitors an idea what you have available every single day.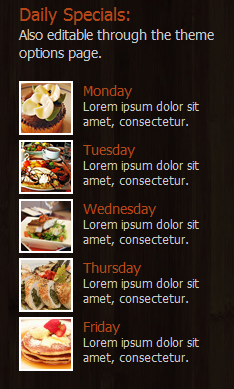 At the bottom of your pages, you can display other parts of your business and help folks navigate to those sections of your website. Let's say you own a Cafe shop. You are going to have a section on your menus. You will probably have a section for reviews. You may even decide to have a dedicated page about your business with pictures and contact information. You can show them all on the bottom of your page.

Cafe Press is an excellent theme for food based business such as Coffee shops, steak houses, niche restaurants, and … You don't have to be a WordPress or PHP genius to get this theme to work for your business. You can customize it easily, but the design is very easy on the eye as it is. If you have a food business but don't have an online presence yet, you should strongly consider Cafe Press to build your own business website fast!

P.S. don't forget that you can get all 6 premium themes by Press 75 for only $275. If you are building a lot of websites in the future, you may want to consider getting them all.