We all would love our sites to be as fast as possible. You can't pull that off unless you optimize your images, utilize a good caching system, improve your server, and take other measures. Kraken Image Optimizer happens to be one of the best plugins for optimizing images. It allows you to compress new and existing JPEG, PNG, and GIF files. With Kraken Pro, you get more optimization options, stats, and a whole host of other features.
Kraken Image Optimizer is pretty simple to use. Once you sign up for an account on Kraken.io, you will have to grab your API credentials and provide them to the plugin. It lets you optimize images individually or in bulk. As you can see in the above GIF, it is possible to modify optimization type, bulk optimizer settings, and other options from the Settings page.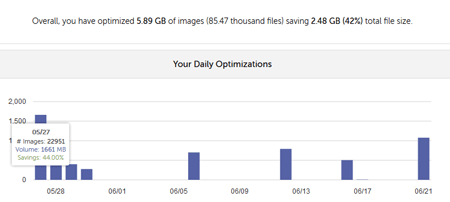 After using this service for a couple of months, we were able to compress our files by an average of 42%. This not only made our sites run faster but also saved some server space. To get the most out of this service, you will need to sign up for a paid plan. The prices are not unreasonable though.