Many folks don't write more than one article per day, so they don't struggle a whole lot to find a date to publish each post. Things could be a bit tricky if you don't write a post every day or need help scheduling your future posts. Publish to Schedule is an interesting plugin that automatically schedules your posts for you. It is useful when you need to maintain a certain periodicity.
Publish to Schedule lets you choose how you want your posts to be scheduled. You can pick and choose which days of the week posts are allowed to be auto-published. You can also specify the time interval in which you want to have your posts scheduled. The plugin also gives you feedback on why it is making the decisions it is making just in case you can't remember your own rules.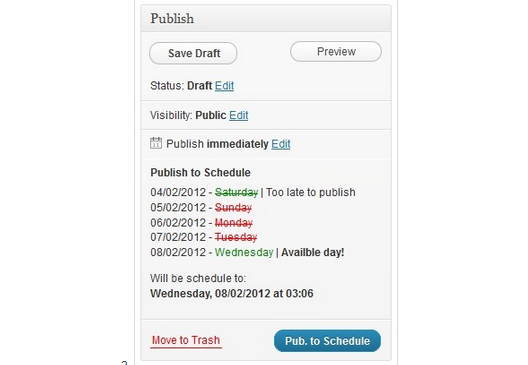 Publish to Schedule simply automates the process of scheduling your posts based on your own rules. It is probably not for everyone but gets the job done.