As someone who has been around SEO and WordPress for a while, I can tell you that there are a whole lot of WordPress webmasters that have no idea what it takes to optimize their pages for the search engines. Some don't even know how to start the optimization process. Now I am not suggesting that getting ranked for those general, highly competitive terms are easy, but if you don't know what SEO is and have no idea how to track your search engine rankings, you have got work to do. That's where SEO Booster Pro comes in. SEO Booster is a very easy to use SEO plugin for WordPress that is designed to help you figure out what you are doing right SEO-wise, and how you can increase your presence on the SERPs.
You may also want to see:
SEO Booster is designed to help webmasters from all walks of life to track their progress on search engines and find areas that they need to improve their sites upon to increase their presence on the SERPs. Here is what I love about SEO Booster. Once you install the plugin, it's going to go to work for you, collecting all the incoming keywords and the landing page associated with them. It even tells you your ranking on the SERPs so you know how much you need to improve. You can always write posts day in and day out and hope for the best, or you can approach SEO scientifically, track your results, and improve areas that may give you a better chance of getting ranked higher on Google and other engines.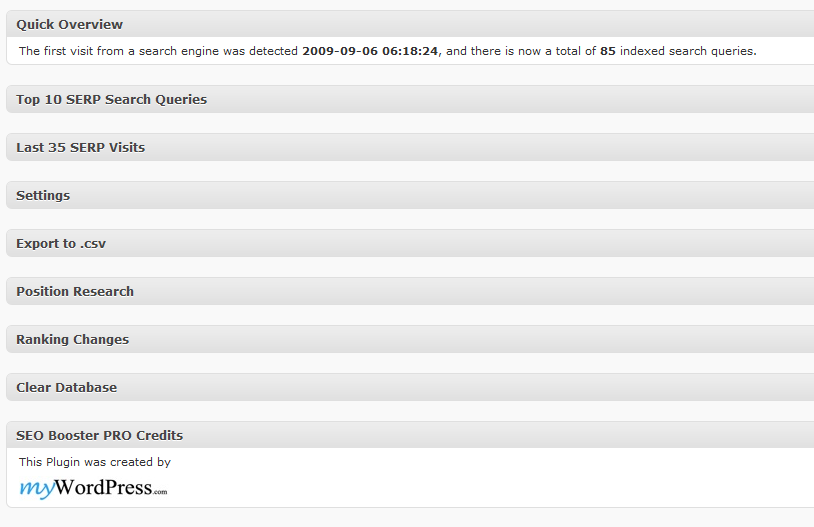 SEO Booster shows you the top 10 search queries based on the number of visits to your site. It also shows you which landing page these visitors have landed on. If you run the plugin long enough, it's going to lock on your position as well. This information is highly valuable as you can figure out whether you have mapped out your keywords-pages relationship right. But it gets better. The plugin can also show you the last 35 visits to your site from the SERPs. It even gives you the query used  by your visitors. This is pretty useful as you can figure out what areas you need to focus on and keep watching the data to track your progress. The plugin is also flexible enough to let you turn off those bogus search terms such as numbers.

SEO Booster is great for tracking your positions on search engines, but it's more than just that. You can set it up to automatically change your titles and h1 tags and replace them with the most searched terms related to your blog posts. You can also create a list below your post and display those precious terms on your pages.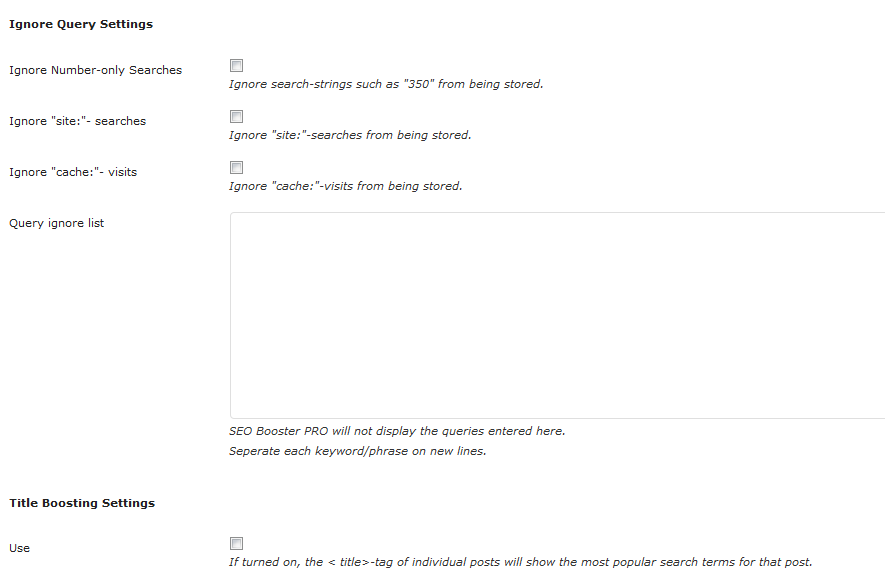 In summary, here are a few reasons I love SEO Booster Pro:
Tracking: it makes it easy to track your progress on search engines and find out areas you need to improve upon.
Keywords: finds you new keywords that you can optimize for to get even more traffic.
SEO Mapping: helps you find out how your keywords and landing pages are related and how you can map out the right keyword-page pairs.
Data: you can download your data in CSV format and analyze it more effectively.
Trends: based on your traffic and the pages that people have seen on your website, you can find new blog ideas to work on.
All in all, SEO Booster Pro is a wonderful plugin for beginner and pro bloggers who want to get the most traffic out of the top search engines. It helps you track and analyze your search data, allowing you to come up with a better SEO strategy for your blog. Whether you are a newbie to the world of SEO or an expert search engine professional, you are going to love the convenience of having this plugin retrieve your SEO data for you over time. It can't get any easier than that.
Win a Copy of SEO Booster Pro (Ended)

The good people behind SEO Booster Pro have been kind enough to offer a copy of SEO Booster Pro to one of our readers. It's a wonderful SEO plugin for WordPress, and now you can have it for free. Can't get better than that. Here is how it works:
1. Go to http://cleverplugins.com and check out the rest of their plugins.  Come back here and leave a comment with the name of the plugin that you are interested in to read about.
2. Follow @wpblackbelt and @mywordpress on Twitter. And then tweet this message:
SEO Booster Pro plugin #giveaway! Follow @wpblackbelt and @mywordpress and visit http://wp.tl/contest for details. Please RT!
Click here to do it automatically. Leave an extra comment with your tweet URL.
Extra Entries:
1. Blog about this giveaway (link to this page and mywordpress.com) and add an extra comment with your blog link (1 entry).
2. Add this URL to Delicious and come here and leave an additional comment with your delicious username included (1 entry).
3. Digg this story and leave your digg username as a comment (1 entry).
4. Tweet this message as many times as you would like. Leave a comment per each unique entry with your tweet URL (1 entery per each tweet)
*Do not leave duplicate comments per step or you'll be disqualified. Do not combine steps either as that would decrease your odds of winning this contest. Make sure you leave a working e-mail address or we won't be able to contact you.
That's it. I'll use Random.org to choose a winner. The giveaway ends on Friday Sep 25 , 11:59 PM EST. Good luck.