Many top e-commerce stores allow their customers to pre-order highly anticipated products weeks or months ahead of time. Thanks to the SUMO WooCommerce Pre-orders plugin, you can add such functionality to your own website. This plugin allow you to charge people upfront or when a product is leased. Customers can always cancel their order prior to shipping.
Webmasters can configure data and time of release for upcoming products and even offer incentives to increase sales. For limited quantity products, max order quantify can be set in advance. SUMO WooCommerce Pre-orders keeps a log of all pre-order transactions. For those who choose to pay on release, webmasters can send a payment invoice reminder when the product is ready to ship.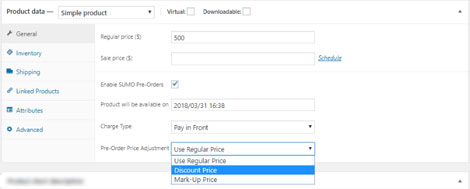 This plugin is ready to be translated. It should work with most WooCommece themes.