WooCommerce makes it so easy to build an online store. Offering a great experience to your customers is one way to encourage them to spread the word about your business. Getting them to review the items they have bought could help as well. Unfortunately, not all your customers will remember to post reviews to your site. These 3 WooCommerce review reminder plugins can help with that: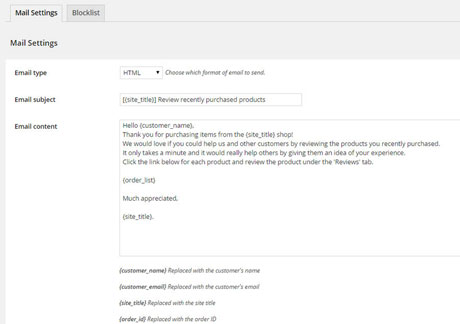 YITH WooCommerce Review Reminder: allows you to send a reminder to customers to do a review of the items they have bought on your site. It lets you customize e-mail subject, content, and keep a list of users who don't want to receive further notifications.
Write a Review Reminder: automatically sends a review to customers after a specified number of days. Your customers are rewarded with a coupon for their trouble.
WooCommerce Review Reminder: lets you remind your customers to leave a feedback a few days after completing a transaction.
Your customers are more likely to support your business if their experience on your site has been consistently positive. The above plugins simply help you remind them to leave a feedback after buying an item.